For the 9 days of Navratri, Team ApeCape has something exciting in store for you. We've spoken to 9 special Goddesses – everyday, real, human women who inspire us by word and deed! We bring you their stories every day and hope that you love them as much as we enjoyed writing them for you.
Since it is Vijayadashami today, we decided to feature not one but two Goddesses! Divya is the 9th Goddess we spoke to. We wanted to find out how a college chemistry professor made the journey of transformation into a voice coach. A favourite with her students across the board, here is Divya's story in her voice!
The First Steps: The Joys Of Teaching
I am a postgraduate in Biochemistry. Once I finished my course, I was still fairly clueless about what I wanted to take up professionally. Fortunately, I heard about a temporary vacancy in the Undergraduate Chemistry Department at Mount Carmel College. I applied for it and got on board immediately.
It felt almost surreal to me initially to be sharing space with my own lecturers but on the other side of the bench this time! However, it turned out to be a great decision. Little did I guess that from that point, there would be no turning back. I threw myself head-first into a multitude of cultural and scientific activities on campus. From waste management to science clubs, from music to working with the alumni, I enjoyed each new experience as it came along. Time passed, and I didn't end a day without uncovering some potential of which I was previously totally unaware.
From Chemistry To Music: The Leap of Faith
This roller coaster ride of self-discovery that I had experienced while teaching college came to an abrupt end. One day I felt that I didn't belong there anymore; my inner voice told me I was supposed to be doing something else and that I'd learnt whatever I had to there.
I followed this feeling that came straight from the heart. My colleagues and students were shocked because I left the college within 4 months of deciding to leave. After a gap of many years, I was pursuing singing once again at the Bangalore School of Music.
I was happy to work on projects that required my skill-set. The more I enjoyed the freedom of following my heart, I pursued singing with more enthusiasm.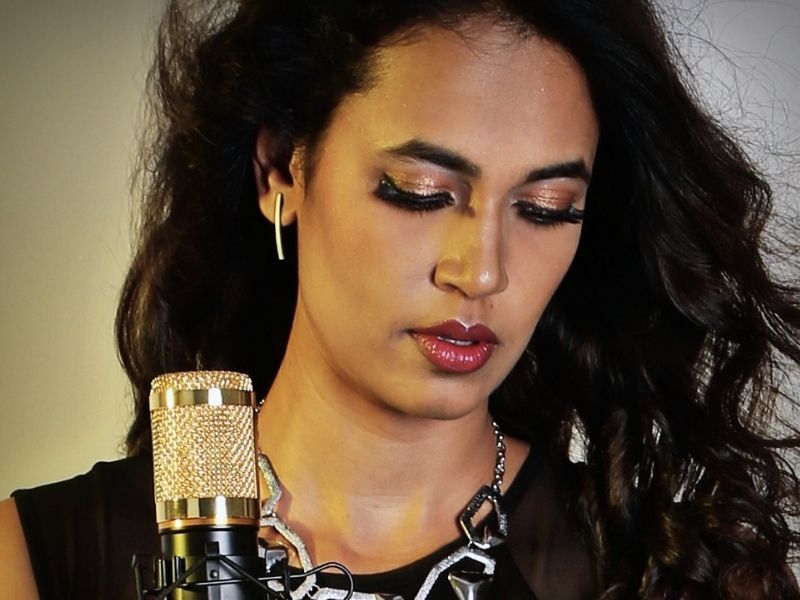 Launching VoxCoach
My social media content covered topics that clearly reflected my passion for music and singing. Shortly after that, people starting contacting me for voice lessons. "Vocal Techniques" which had just been a new discovery to me became my focal area as I was drawn to delve deeper to help my students with their journeys. 
The science behind sound production and its impact on voice training fascinated me. Having worked as Project Head with the Shankar Mahadevan Academy and Berklee Online School Certificate in "Creativity & Entrepreneurship in Music Industry", I felt confident that I could combine my learnings across spaces to create a unique experience for my students. This is how I started VoxCoach.
What Keeps Me Going On This Path
The fact that it doesn't feel like work is what motivates me the most. I enjoy every bit of my interaction with my students and clients; a new voice and new problem areas create room for new perspectives. So there is never a feeling of redundancy. Some of the best feedback I've received collectively is that the sessions are enjoyable, the results are remarkable, and Voice Science which forms a vast portion of our content, helps with application in real-life scenarios. When I hear things like this, I know that I'm on the right path. I'm able to make the difference I've always wanted to in musical education, and nothing makes me happier!
Demons I Have Faced
Somehow I've never seen situations or behaviours as demons because I've had this power of "inner knowing" right from when I was a child. This gives me the confidence to unflinchingly go ahead with the steps I take because I make them in faith.
Music Helps Beat Stress
I turn to music whenever I find myself overwhelmed or stressed. Michael Jackson's songs, in particular, have this magically soothing effect on me. Way back in 2016, when I had just quit Mount Carmel College, Michael Jackson's song "Give In To Me" caught my attention. I knew that I had to sing it. I'd practise every day and finally ended up being the only girl singing his songs at karaoke. His music is from the heart, and I feel his passion in his singing and voice.
My other huge inspiration is Tupac Shakur. I feel both singers (Tupac and Michael Jackson) are very real and authentic, which drew me to their art. Apart from them being a significant influence, my strongest cheerleaders are my students. This helps me stay grounded while I pursue my goals.
My Advice To Goddesses Out There
Everything you need to succeed is in your hands. You are a Goddess, and the power lies within you. Trust yourself, have faith in your decisions, and you'll be sure to go places!
Would you like to learn more about VoxCoach and voice training? Get in touch with Divya on Facebook, Instagram, LinkedIn, or find the app here. You can also read about our other Everyday Extraordinary Goddesses – Shravanthi, Bulbul, Smitha, Jacintha, Anjali, Dr. Veena, Nisha and Meeta here!