For the 9 days of Navratri, Team ApeCape has something exciting in store for you. We've spoken to 9 special Goddesses – everyday, real, human women who inspire us by word and deed! We bring you their stories every day and hope that you love them as much as we enjoyed writing them for you.
This year, the 3rd Goddess we are featuring is a whiz with numbers, a natural with communication, and a favorite with the people she deals with. Meet Smitha, DVP of one of the largest corporate insurers in India today! Team ApeCape spoke to her about her climb through insurance, how she fuels her dreams and how she gets past her obstacles with the utmost ease. Enjoy Smitha's story in her voice!
Why Insurance: The Spark
My family has a strong affiliation with the banking sector – my father, uncles, and other elders were all bankers. So, right from a young age, I knew I wanted to go into the finance industry and took up commerce in college. I shifted to Mumbai; I was working with CMIE those days and doing financial research. This was where I got a lot of exposure to news related to insurance. I was very attracted to something in this field.
Around this time, private players were just entering the market (LIC had the monopoly before this), and it was a period of exploration. When my uncle told me there were openings for jobs at one of the bigger private insurance companies, I applied right away and fortunately, I got selected. To date, I am still so grateful to him for putting me on this path. In fact, every time I have career advancement, he is one of the first people with whom I share the news!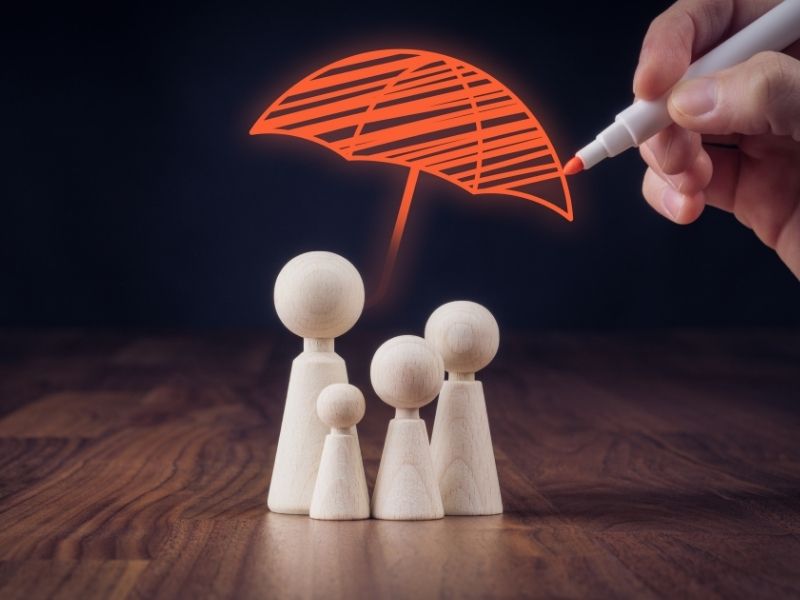 The Journey From Claims To Corporate
I love working on new projects and challenges. When I started, I was working on insurance claims, and it could get depressing. It affected me emotionally, too. Luckily, at this time, the company let me handle group/corporate insurance. For a while, I juggled the two, and then, when the company bifurcated the departments, I chose to move to corporate insurance.
I did this because I wanted to get my teeth into new challenges and keep learning on the job. Many of my colleagues questioned the wisdom of my decision – they felt I was boxing myself into a small department with very little opportunity to grow.
However, this was one of my best decisions! It's true; there are very few people Pan-India who know the group insurance market well. For me, it's a matter of pride to be known as one among them. There are so many people to thank for this journey – mentors, colleagues, even the companies I worked with, for encouraging me, teaching me, and recognizing my achievements and pushing me higher.
What It Takes To Succeed In The Field
When I moved to Bangalore, I started a servicing unit for group insurance. I spent a lot of time interacting with teams from different corporates. That's when I realized that I can build rapport very quickly and that I like talking to people, hearing them out. I genuinely believe that this is one element that has helped me make a difference!
I also think it is crucial to give your 100% to whatever you are doing. There's no point going with half-baked efforts because then you'll never see the results of which you dream. While I like variety and learning new things, I give my all to every project I work on.
Dedication, perseverance and determination can work wonders for you, no matter in which field you work.
Staying Grounded, Staying In The Moment
Especially when it comes to a field like insurance, you must learn to compartmentalize. The work can impact you emotionally, which could leave you drained. I learnt early on to switch on turbo work mode in the office, but the minute I saw my baby's face when I entered the house, I switched that off and changed my focus completely. This is a part of my nature for which I am eternally grateful!
I remember this one anecdote very vividly. My daughter, aged 6 at that time, had measles and then chickenpox in quick succession. I had training that I could not miss under any circumstances. Like every mother, I felt overwhelming guilt, worry and I was torn between the two. I was extremely fortunate to have support at home to help out with her.
When I reached the training hall, I was able to compartmentalize. I gave the training my complete focus and checked in on my baby every break. Unknown to me, the trainer overheard my conversation and even commended me on my dedication.
Demons I have Slain
Fear has been my biggest demon. Right from a young age, I've never been shy, but I've had an unexpressed fear – of the unknown and of being judged.
I've always lived in a joint family setup. If I travelled on work, it was with colleagues or to cities where I have had family. The first time the company sent me to an unknown city, I was petrified. Not about my presentation – I was completely confident about that. No, what scared me was for the first time in memory; in over 30 years, I had to sleep alone, in an unfamiliar place.
I voiced my fears to my sister, and she suggested that I keep the television in my hotel room on all night so that the silence wouldn't unnerve me. I've been following this simple tip on so many trips, across so many cities, and now I'm finally confident with solo travels.
Facing your fears isn't about defeating them in one go. It's about going through with something even when you are terrified. Whatever situation I face today, I know I can battle the unknown and still deal with what is in store for me!
The Pandemic and its Impact
As you would imagine, we saw the havoc wreaked by COVID daily as part of our work. If you allowed yourself to focus purely on the claims you were processing every day, it could break you down emotionally. What got me through that time was the conviction that things had to get better. We are resilient as humans, and together, we can get through any crisis.
To me, every situation is an opportunity to learn. Things don't always go the way I want them to, but I still learn from the outcome. This helped me cope with the uncertainties we have all faced since 2020.
How I Deal With Stress
I hit the pause button. How? With a few deep breaths. This sounds very philosophical and theoretical, but it's not. Whenever I'm stressed or upset, I know my mind isn't going to process decisions. Rather than react (and worsen a stressful situation), I choose to respond. So I pause, take a few deep breaths. I ask myself if the situation is in my control. If it is, I do what I can to respond and re-orient myself. If it isn't something I can control, then I just let go.
This is easier said than done sometimes. For example, I was once on a flight that was experiencing extreme turbulence and was panicking a lot. When I paused and breathed, I realized there was literally nothing I could do at all. Nothing! I kept my eyes closed and focused on my breath. The next thing I knew, I was opening my eyes to the flight landing. I had made it back to the ground. That's the power of a few deep breaths – they can ground you even when you aren't thinking straight.
A Word For The Goddesses Out There
Take your decisions, and don't regret them once done. Whatever you choose to do, give it everything you have within you. Work towards your goals without worrying about whether it's the right thing or the right time. Advice, motivation and mentorship can come from the most unexpected quarters, but embrace it and allow yourself to grow!
If you want to connect with Smitha about her journey with insurance, reach out to her on Instagram. Read about our other Everyday Extraordinary Goddesses Shravanthi and Bulbul here!