Diwali brings light and hope into our lives. This year, we're hoping that we're seeing the tail-end of the pandemic and that businesses can bounce back brighter than ever. ApeCape's Spark-A-Biz Startup Stories bring you sparkling start-up success stories while sharing a glimmer of insight into different markets. Want inspiration to start your own business? Spark-A-Biz this Diwali!
India's festivals and traditions help us stay connected with our roots since our ancestors have passed them down through generations. Similarly, returning to his roots in Kangra Valley have worked out excellently for Ankush. He established ParaBooking to connect the best paragliding instructors of his region to people looking for a safe yet thrilling experience. Read his story in his voice now!
Reverse Immigration: Simplifying Life
I come from Bir, which is a small village in Himachal Pradesh. While I left my home in search of educational opportunities, I always felt that something was missing in the metro cities I visited. So, at the first chance I got, I returned to my roots in the Kangra Valley and started my own business. A group of friends and colleagues and I tried different startups and learnt many great skills.
Through it all, one concept stayed clear with me – that of reverse immigration. I feel that people should try to return to their hometowns if possible. Each person comes with a set of skills that they can apply in different ways to make a living. While we tend to leave our roots for education and other such requirements, it's also important to take our learnings back home and use them to make a difference. The rate at which we are focusing on the city culture today is unsustainable. If you want to build a more balanced future, you need to work on balancing learning and newer careers.
The Urban-Rural Divide
So far, I feel people have chosen not to return to their roots because of socio-economic reasons. They feel a sense of anonymity in cities, which might be missing in their hometowns as it's a tighter-knit community. However, economically a shift back home can work out better, as they can save more.
With travel and intent, people's horizons are broadening and shifting. Soon, you'll realize that though village life works at a different pace, it's still fulfilling and colourful. However, it still depends on what feels right for each person; you need to feel that it works for you.
Aiming For The Sky
Bir, my village, is so famous for paragliding that it's known as the Paragliding Capital of India. When I returned to my town, I learnt solo paragliding. That feeling while you float gently over the majestic Dhauladhar range is just incomparable. Adventure sports enthusiasts and thrill-seekers across ages and countries flock here for the experience and enjoy the tandem paragliding they do.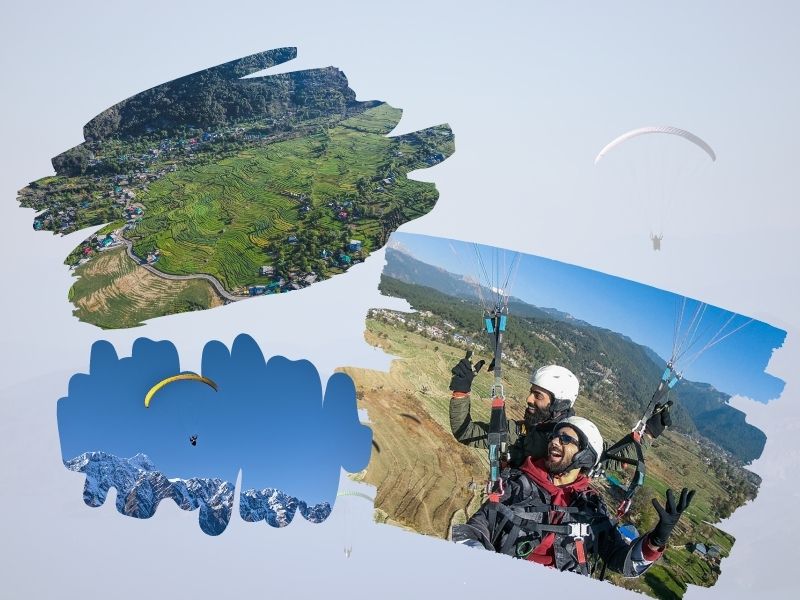 Paragliding Gaps And How To Fill Them
On the grimmer side of things, safety and unpredictability are huge gaps in terms of paragliding today. I've been to a couple of post-mortems of paragliding accident victims. That's when I knew that you couldn't place the value of human life below investing in safety. Unpredictability is another worry since pilots (the instructors who make the jump with you in tandem paragliding) never know where business will come from next. They miss out on both day-to-day life and major events in their families because they're busy scouting for work.
That's what motivated my team and me to start Parabooking. There are 300-odd pilots operating in Bir. Out of these, we picked the top 20 based on stringent checks and measures – background verifications, expertise, certifications and more. Basis this, we created an app. On it, people could book their tandem paragliding experience, and one of the 20 pilots would accept their booking.
The Parabooking Experience
We offer a digitized, seamless paragliding experience, where people can choose from Classic, Prime and XC flights. We're the first company ever in Himachal Pradesh to give customers an insured flight for additional security. Parabooking has the best pilots with over 5000 hours of flying experience, and we carry out stringent equipment checks. Our customers are delighted with their flight instruction videos and the memorabilia after their flight. I think you can safely say that the Parabooking experience transcends the rest.
Parabooking is synonymous with building safety and trust in the paragliding experience. Apart from the measures mentioned above, we offer a full refund if the customer isn't happy with the trip after a due investigation into the circumstances. An insurance package with each flight sets the customers' minds at ease even before the jump.
Ultimately, every flight for us bears the same motto – Is it safe, secure and good enough for us or our loved ones to take? Only if the answer is yes, do we let our customers paraglide with us!
Pandemic Standstill
We were fortunate to be incubated at IIT Mandi. During the pandemic, we were able to get some basic government support to sustain us for a while. The government also started infrastructure programs for rural employment. That's what helped our pilots stay afloat in those hard times.
Team & Process
We've worked very hard on building the smoothest process for our customers. The money paid for the booking remains in an escrow account for 72 hours to ensure transparency and accountability. If people raise disputes, we do our due diligence and sort out the issue in this timeframe.
I would say that the team you work with is of paramount importance. You need to find the right people, no matter how long it takes. Having some of the best minds to work with – Vikram, Deepak, Prasenjit, Sohail, Jubin – has made Parabooking what it is today. Our mindset as a team is special. When we find people who resonate with this synergy, we love collaborating with them. The idea is simple.
Gliding Towards The Future
Apart from paragliding, we're planning to bring offbeat treks onto our platform as well. We want our experiences to be offered across the Himalayan belt – from Jammu and Kashmir to Nepal. Parabooking will give you the best – pilots, equipment & judgement. All you have to do is let yourself glide through the sky!
Ready to book your tandem paragliding experience now in Bir, Kullu or Dharamshala? We can't think of a better gift to yourself or the adventure enthusiasts in your life. It's super easy, and there are so many ways to do it – their website, Facebook, Twitter, Instagram, LinkedIn and WhatsApp! Want to read other amazing Spark-A-Biz Startup Stories; they're right here.