Diwali brings light and hope into our lives. This year, we're hoping that we're seeing the tail-end of the pandemic and that businesses can bounce back brighter than ever. ApeCape's Spark-A-Biz Startup Stories bring you sparkling start-up success stories while sharing a glimmer of insight into different markets. Want inspiration to start your own business? Spark-A-Biz this Diwali!
Every singer or voice talent works hard and consistently towards keeping their voices at peak condition. After all, it is their gateway into their world of dreams. But is there more to voice training than just practising vocal exercises for long hours? Abhilasha from Goalus Vocal Studio brings you the concept of voice training – understanding the biology behind making your voice a powerful instrument. Read her story in her voice today!
Singing: A Way of Life
I've been a singer pretty much most of my life; I started when I was 5 or so. My father had a transferrable job, so I've had a lot of teachers through the course of my childhood; this helped me learn a lot! I've been in the Sa Re Ga Ma Pa Top 20 as well. Since I went to a convent school, I was part of the choir and got into the acapella culture. So until I went to college, music was an integral part of my daily life.
Then, I joined law school. College life, assignments, exams, internships – all of this meant that I had no time for music anymore. I would sing rarely but wouldn't have time to practice. The law firm culture wasn't something I was interested in when I had graduated. By the time I was in my 3rd or 4th year of college, I knew my lack of practice cost my voice also fuelled my next decision. I quit law and chose to pursue music full-time.
Understanding Voice
Like I mentioned earlier, law school had cost my voice. Teachers, peers in the industry, mentors – everybody advised me to sing more. But, every time I sang, the more tired my voice got.
I hit the brakes on singing and started reading up on the biology of the voice. That's when I came across Eric Arceneaux, a famous vocal coach known for bringing depth and transformation to voices. His videos opened my eyes to a whole new universe of understanding vocal techniques and saving my voice.
Discovering my Voice
Once I quit law, I joined music school. It was one of the most prominent schools, but I still felt there was a gap in terms of the emphasis on vocal pedagogy. I wanted to learn more about this and began looking for vocal coaches like Eric in India. As you can imagine, that's a tiny niche. I was fortunate enough to meet Divya RT, a Vocal Coach, and my lessons with her genuinely gave me a deeper understanding of my voice and the biology that goes with it.
The hardest part for me in this journey was patience. If my teacher said, "Don't worry about singing, try this exercise first," I would be impatient because I wanted to sing better, and I wanted to micromanage everything. To get better insights into the process, I would read about every little thing. I soon learnt that voice training is about letting go and allowing things to happen with patience. It will build up and give you the results you want, but it will take time.
Voice Training is Vital
Like I mentioned earlier, law school had cost me my voice. It had lost a lot of power, agility, range and I had absolutely no idea about breath control. Every time I sang, my throat would hurt. Ironically, teachers, peers in the industry, mentors had only one piece of advice for all my problems – to sing more! Like the vast majority of people who take singing lessons, I had little to no instruction on proper vocal technique and voice health in my childhood.
So I had developed speech and singing habits that were causing me to overexert myself and push my voice to sound better. I managed to sound good but I knew my voice was sooner or later going to get injured if I kept this up.
The Birth of Goalus Vocal Studio
Like everybody else, I had to take a break from whatever I was doing during the pandemic. There was nothing much to do outside, so I went deeper inside. I was able to get the time and break to focus on my pipeline dream. That's how I started Goalus Vocal Studio.
I felt a lot of singers could benefit from my learning. Singers need to understand their voice and then build it up based on their goals. I've faced most of the problems that singers tend to face in their career – strain, tiredness, voice loss and more, and I'm living proof that vocal coaching can make a world of difference.
Voice training isn't mainstream, so people don't understand what it's about. It's not the easiest when you tell a panicking singer that understanding his/her body will make them a better singer in time. There is a lot of patience, understanding, and time they have to invest in the process and have the intent from within to make it work. Not everybody is willing to do that, but once they see the positive impact on singers and voice talents who have undergone voice training, they are convinced.
The Journey Keeps Me Going
Every person who comes to me has their own niche and space. Each has a goal to reach, but they also serve a particular purpose in their overall musical journey.
Some instances stand out in my memory that have motivated me even at my lowest points. When I launched Goalus Vocal Studio, my first student was one of my classmates from music school. Despite studying at an international-standard music school, she chose to come and study with me. She says this was because she saw how my voice had grown and evolved after I started voice training, and she thought she could learn something from me that she couldn't get at a traditional music school.
Watching people realize the full impact of this statement first-hand is so rewarding!
My biggest support system is my family – my mom, grandmom, sister: they're my constant cheerleaders. People wondered why I had quit law to do this, but my family never questioned me. My boyfriend, who is also a musician, has been incredibly supportive. Many of my friends think I'm on this magical journey, and they lift my spirits when I'm down. My coach, Divya, has been instrumental in this transformation of my career.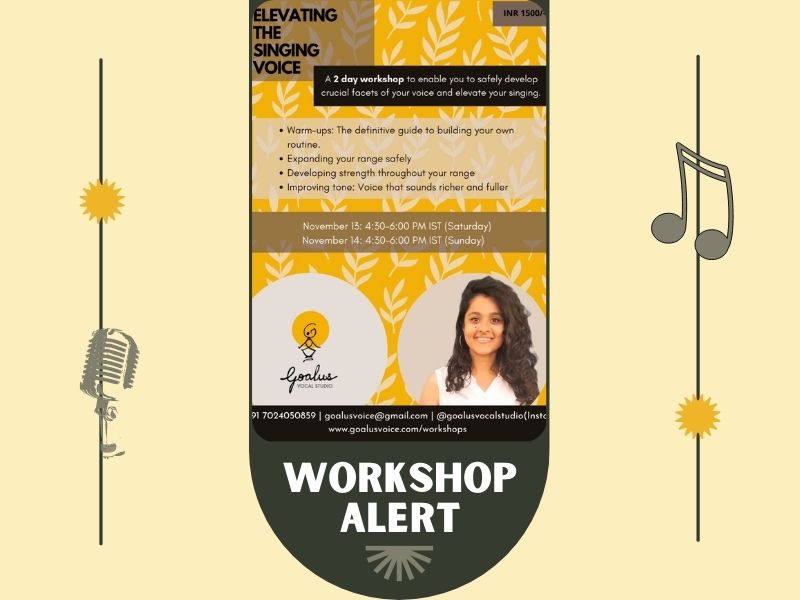 Taking Goalus Vocal Studio Higher
Social media has helped me grow so far. I don't have a very sophisticated business model, but I've seen that talking to people and reaching out to them is what convinces them to try Goalus Vocal Studio. Once they learn with me, their confidence grows, and so does their voice!
Next year looks like a cusp situation for me; people who've been used to staying home all the time are now going back to work. So, fitting voice training into their regular schedules will be my challenge.
I'd like to reach wider audiences – actors, voice talents, and anybody who regularly uses their voice as a career. With that in mind, I wish to reach out to a lot more people in the TV industry by helping reality show people explore their potential in the true sense of voice training. I was 10 when I was part of that life, and I was singing for many hours in a day. If someone had taught me what I know today back then, it would have meant a massive boost for me, so I want to do this for budding talents.
The Voice as an Instrument
Vocalists are the only professional musicians who know unacceptably little about how to care for their instrument and get better at it.
If you'd like a glimpse into what voice training can do for you, Goalus Vocal Studio has a Voice Elevation Workshop coming up on the 13th and 14th of November. Check out details here, and go follow them on Instagram, Facebook and LinkedIn for more exciting updates. Loved this story? Check out other Spark-A-Biz Diwali Startup Stories now.