Diwali brings light and hope into our lives. This year, we're hoping that we're seeing the tail-end of the pandemic and that businesses can bounce back brighter than ever. ApeCape's Spark-A-Biz Startup Stories bring you sparkling start-up success stories while sharing a glimmer of insight into different markets. Want inspiration to start your own business? Spark-A-Biz this Diwali!
What's an Indian festival without some juicy jalebis, sweet soan papdis and gorgeous gulab jamuns? While we all love the delicious things we get from sweet shops, do we think about what goes into the actual running of one of them? We got chatting with Sriram who runs Amrutha Sweets – a chain of quality sweet outlets in Bangalore. This is his story in his voice.
Bring Quality Sweets to Bengaluru
Amrutha Sweets started in 2007 as a small-scale sweet shop. I took over the management in 2015, and today, we're a chain of sweet shops with a name for quality and consistency.
We provide both sweets and savouries; today we have over 80 varieties of sweet dishes and over 20 types of savouries. As we grew, we focused on brand building side by side with menu expansion. We knew it was important to have a logo, packaging and names that people would connect with and come to recognize.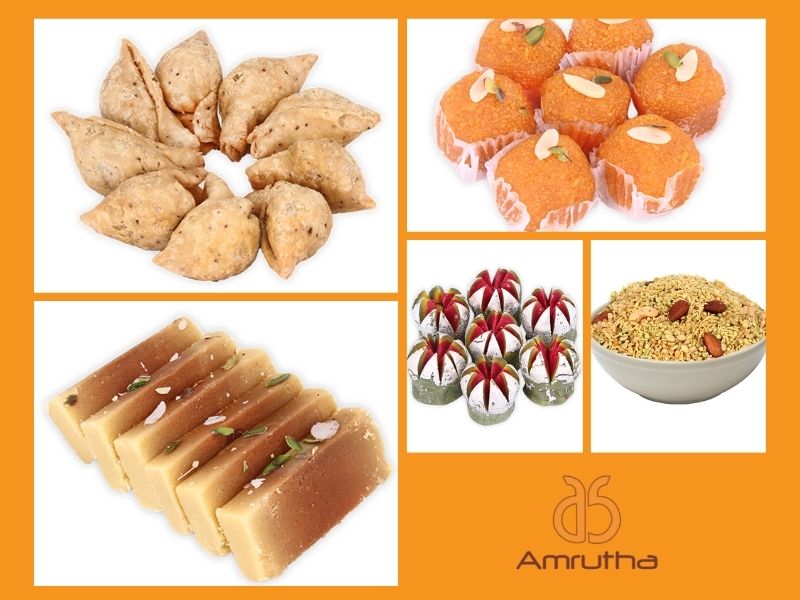 People generally buy sweets once in about 15 days, or for special occasions and festivals. If we want footfalls on a daily basis, we had to have something that would entice people to walk in. That's how we expanded our offerings to parathas and chaats as well, and our customers love them!
Pandemic Struggles
COVID-19 has impacted us badly, like many other businesses. On the personal front, I lost my father in the first wave. While I was reeling from the loss, I had to deal with work pressure as well. My dad used to handle the namkeen production wing at work, so we had to ensure that we covered those responsibilities as well.
We were also forced to shut down one of our bigger outlets. Even now, while the economy is slowly recovering, business is still down for us. We're still staying positive and are sure that we'll be able to bounce back. The one good things to come out of the pandemic is that rents are lower, so we're at least able to keep our overheads and expenditure in check. COVID forced us to shut shop, lay off staff, and reduce menus. But we're back in business, and I'm sure we'll make it!
Building Trust, One Sweetbox At A TIme
In a metro city like Bangalore, people come from different parts of India. It took us really long to come up with our logo and packaging which customers would recognize. Initially, we didn't have the budget for a lot of marketing, so we relied on our quality to speak for itself. Our 3 head chefs are our strongest assets and the pillars on which we build our brand. So we knew that our quality would stand the test, and it did work out well! Word of mouth marketing brought us new customers.
I still remember the day we bagged our first corporate order. You see, how it works in corporates is that you have to pass a screening process and be a registered vendor with them before you can bag their orders.
Initially, companies didn't know or trust us. I am still very grateful to those who took a chance on us and tried out our products. Based on the positive feedback they got from employees, they signed us up as registered vendors and we were able to cater to their sweets needs for big occasions like Diwali.
Expanding the Empire
Today, we are on Amazon Food, but not yet on a lot of delivery platforms. We're looking at registering with them all to make Amruta Sweets accessible to all of you in Bangalore. Since the pandemic, times have changed and people are far more comfortable with ordering even sweets online. So we'll adapt to changing customer behaviour as well. Still, we're waiting for the situation to improve and schools, colleges and offices to reopen so that businesses regain their lost lustre.
If you haven't placed your Diwali orders for sweets yet, it's not too late. Check out what Amrutha Sweets has to offer on their website, Facebook and Instagram right away. Share this article with friends and family, and show your support by liking and commenting! If you loved what you read, check out our other stories in the Spark-A-Biz series here.