Diwali brings light and hope into our lives. This year, we're hoping that we're seeing the tail-end of the pandemic and that businesses can bounce back brighter than ever. ApeCape's Spark-A-Biz Startup Stories bring you sparkling start-up success stories while sharing a glimmer of insight into different markets. Want inspiration to start your own business? Spark-A-Biz this Diwali!
India has over 6 crore registered MSMEs as of May 2021. A lot of these companies were part of the "traditional business model" that operated purely offline. All this changed during the pandemic in 2020. Read how Varun Pawar and his team at Swoonbug were able to help businesses transition online at this critical juncture!
Go Digital or Go Home
Let me start you off with an elementary example to show you precisely what we do. I want you to think back to the very first time you were in an airport. You had to figure out what to do and where to go. Chances are you found an information kiosk, right? They told you which gate you had to drop off your luggage, where to board and so on.
In the early months of the pandemic, my co-founders (Dipika, Saagar) and I saw that many traditional businesses were trying to get online via Facebook or Instagram. When they first came online, breaking into the e-commerce marketplaces like Amazon or Flipkart was daunting for many reasons. So they chose social media platforms.
What Swoonbug Does
First of all, we focus on fashion and home decor. We wanted to choose something uniquely Indian that used traditional practices to create and transition it into the e-commerce way of life. Our team reaches out to small businesses based in tier-2 and 3 cities who've been wholesalers or manufacturers and transition them online. Then, we do whatever they need to support them in this experience – taking product pictures, writing SEO-friendly product descriptions, creating listings and more.
In this journey, we realized that when e-commerce first came to India from the west, we also inherited the process that went into it from them. However, the Indian shopping experience tends to be more conversational. We like to hear the stories behind our products, where the sellers are from, what went into making our goods and more. These were challenges we had to overcome in tier-2 and 3 cities.
The Swoonbug Model
We spent a lot of time cracking how to get our customers to trust us and the process as a whole. You see, we are trying to professionalize sellers who are very used to selling offline. This means they need to streamline inventory, order management and create basic catalogue descriptions. Getting them to make this transition and trusting you is a laborious process.
What worked for us was a couple of practices. One, we offer immediate customer service – we answer every single query within 2 minutes. This accessibility meant that problems were getting solved as fast as they came up. This then led to greater trust in our process. The second thing we are setting in place is to build regional support. People should buy and sell in the language that they are comfortable in without any barriers.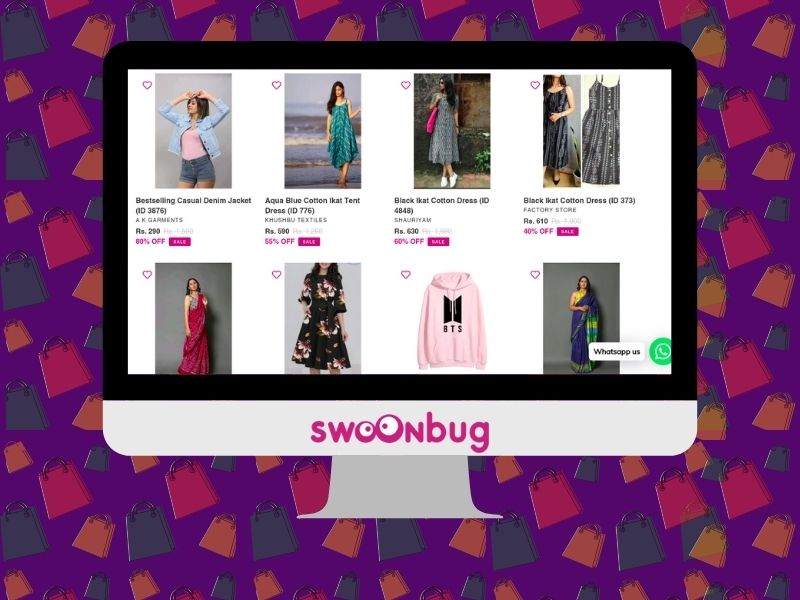 Our Learnings
When we started, we felt that handloom products could command a premium in the market. This was because of the quality as well as the challenges the weavers faced, especially in the lockdown.
Our buyer profiles are also interesting, thanks to how widespread the Internet is. 50% of our buyers come from metro cities. However, the remaining come from over 100 smaller towns and villages across the country, ranging as far as the Bangladesh-India border. While we have a website, over 90% of the orders close on WhatsApp.
Our biggest moment was when a customer did 2-3 transactions with us and loved our products. She immediately switched to a bulk order of sarees worth over 1 lakh. The fact that we could build trust so quickly and thoroughly, and they felt we could curate what they wanted was terrific.
Our Support System
Our closest family – parents, siblings, spouses – felt this was the best time to start a tech-driven business. They had the faith that we'd figure things out, and that motivated us. Along with that, the greatest validation is from our customers. We've had customers who grow with us, and that trust is hugely supportive even at the most challenging times.
One of my biggest learnings that caused us to build Swoonbug the way it is today is about the Internet. The Internet was built for English-speaking people. But the rest of India's internet looks very different. We took the time to understand ShareChat and other India-first platforms to get the hang of how non-metro India would shop. A simple example is that the terminology "Add to Cart" was alien to our shoppers, but changing that to "Add to Bag" made it clear instantly.
The Way Forward
We built Swoonbug to bring our customers joy, comfort, and happiness, which causes them to swoon. And the "bug" in our name comes from the shopping bug that bites you and makes you return to us again and again.
The biggest thing we want to crack is how to build a shopping experience that a first-time non-metro internet user is comfortable with. We want to build for the 4 million Indians who are using the internet for the first time – a platform that brings them joy!
Want to see what Swoonbug has to offer you? Check out their website and Instagram page now. If you enjoyed this story, you love the others in our Spark-A-Biz Startup Stories series as well!