Post offices have always been instrumental in communication in our lives. The musical entry of the postman on his bicycle, and people rushing out in excitement seems like a scene of the times gone by. With the advent of email, their relevance in today's times has lessened. However, the delight in receiving a postcard or a letter via mail is still alive. Personalized, hand-written notes on a postcard or an inland letter impart a unique experience that is inexplicable. So, this Postal Day – 9th October, here are some of the most fascinating post offices in the world.  
Floating Post Office – Kashmir
If you visit Srinagar's Dal Lake, you'll see a plethora of shikaras. Among these, one carries stamps and few postmen. Since 2011, this is the world's only floating post office. It also holds an in-house philately museum and offers banking services. 
A special Kashmiri seal stamp decorates your mail, depicting a shikara and a boatman. This is especially done for this wooden post office with the pin code: 190001.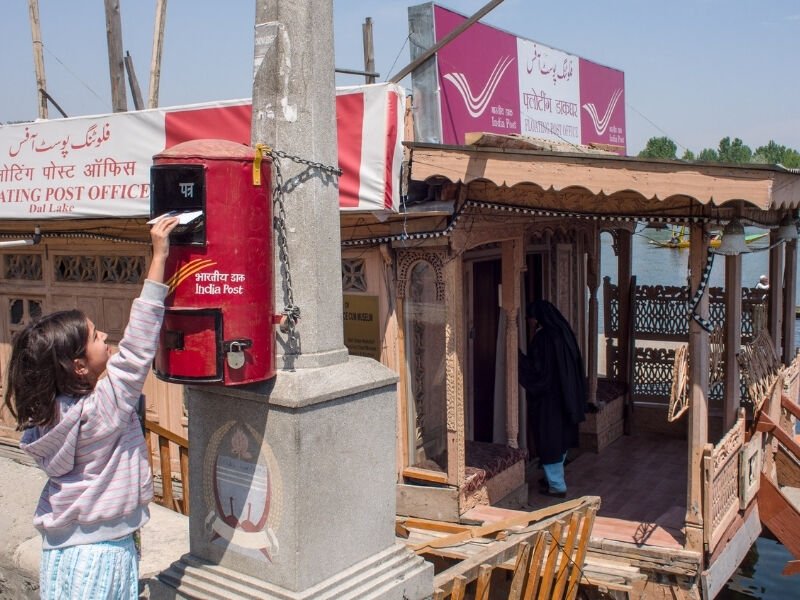 Atop Mount Everest
The world's highest post office is perched almost 5300 meters above ground level in Tibet. Reach Tingri Country in Tibet, from where you can proceed to this tiny mailing zone.
Established in 2008, this post office rests in the Everest Base Camp. Hungry travellers can rest here while sending mails to different corners of the world. Ready to carry oxygen cylinders, trudge up heights, and battle altitude sickness? Then trek up to the highest post office in the world!
Inside the Eiffel Tower
The Southern wing of the Eiffel Tower houses a post office. It draws tourists to post their mail from this iconic structure.
For those extra-special thrills, you can have a special stamp on your post that will declare it is from the Eiffel Tower. Imagine sending love letters from the world's most recognized love destination!
Hoolehua Post Office
Hoolehua in Hawaii immediately conjures up images of a post office set in the sand and surf. While it does not have a unique location, its unusual mailing practice is noteworthy. Located in the U.S., this post office offers a post-a-nut service. It makes its visitors decorate a coconut with stickers and markers, and mail it wherever they want to within the country. 
The mail price varies as per the weight of the coconut. These make practical, healthy, and nutritious gifts that arrive in the mail!
Port Lockroy
This is the most isolated continent on earth. Antarctica facilitates sending mail from Port Lockroy to anywhere on the planet. The first post office in Antarctica was set up by India at its scientific base – Dakshin Gangotri, which shut down in 1990. 
Port Lockroy not only houses a post office but a museum also. A letter sent from here could reach the recipient in about two weeks or even a year. It all depends on the season in which you post it.
Under the Sea, Vanuatu
Under the Sea in Vanuatu is the first underwater post office on Hideaway Island. Several scuba divers and snorkelers visit this underwater post office. Swimming with several fish to post mail on waterproof postcards is an amazing experience. 
Located off Oceania and Australia, this Pacific island nation brags about the achievement in a postcard home. Gracing the depths, 9 feet below ground level, the post box has made posting mail an adventurous activity.  The place also houses a volcano post, set on Mt Yasur – an active volcano that usually erupts over 10 times per hour!
These functional yet unusual post offices across the continents are encouraging people to push the envelope. As you travel, collecting souvenirs is something you won't miss. How about being different next time? Send a mail to your loved ones from different places. 
You will be doing something exceptional and thoughtful. Just choose a postcard, scribble a message on it, and slip it into a letterbox. So, enjoy these offbeat post offices in the world that ensure your post is sent across, with love.
Since it is the festive season, do follow our Goddess Series, featuring the Ordinary-Extraordinary everyday Goddess – Bulbul and Shravanthi for some interesting stories!