Diwali brings light and hope into our lives. This year, we're hoping that we're seeing the tail-end of the pandemic and that businesses can bounce back brighter than ever. ApeCape's Spark-A-Biz Startup Stories bring you sparkling start-up success stories while sharing a glimmer of insight into different markets. Want inspiration to start your own business? Spark-A-Biz this Diwali!
They say that Diwali is the festival of lights. Each of us has a light that shines from within, which gets brighter every time we light a new spark. MentorMind is the epitome of the phrase "sparking new ideas". They work with college students and graduates, especially from tier-2 and tier-3 cities, to allow them to get virtual work experience to build skills for their careers. Check out how this idea developed in the voice of one of the co-founders – Megha!
Learning By Doing
Suhas, Luvieen, Mike and I are co-founders at MentorMind. We all met in Hyderabad at AIESEC. When you come from a tier-2 college, you need to do a lot of networking to understand and learn skills that employers look for. Fortunately, at AIESEC, we learnt a lot about teams, industries, skills like budgeting, management, decision-making, and so on.
When we got out of college, Luvieen started a career literacy company for students from less-privileged backgrounds, and Suhas joined him. I did a fair amount of moving around – I worked with Google for a short stint, tried my hand at HR. But I wasn't enjoying what I was doing. I did my Masters too and got hands-on experience in different industries. After this, I worked with Luvieen and Suhas at LearnEd.
Through all of our myriad experiences, there was one central theme that stuck with us.
Experience and Skills: Bridging the Gap
Students go through 3 or 4 years of college and learn one set of skills. When they arrive at a company for recruitment, the needs at that time might be different. This means that these kids aren't "industry-ready" and get dispirited or settle for low-paying jobs. We wanted to help them bridge this gap.
When we launched in 2018, our objective was simple. Kids did internships for experience, but there's an access problem geographically, industry-wise and more. Even if you do get an internship, there's a chance that you might not learn what you need. You might not be able to do enough internships to acquire the skills you need. There are limited internship opportunities, so everybody might not be able to get access to these internships. It was to address these problems that we started MentorMind.
Menternships & More!
We start our research from the organisations. We talk to them, figure out the skill sets they look for from their interns or entry-level hires. Then, we tailor a menternship so that students can build the skills that are required in the market in real-time. Through each menternship, each student is mentored; they learn the skills they need to complete tasks and complete these tasks as well. All the resources they would need are at their fingertips.
We also have a very active chat support. This enables our mentees to talk to experts from our team if they're stuck at any point. We have 1-on-1 and 1-to-many sessions; this helps them deal with group opinions and get the intensive handholding they need from time to time. As they go through the menternship and complete tasks, industry experts evaluate their work and give them feedback. This helps them understand their grasp on varied skills and what would be expected from them in the real world. On completion of a menternship successfully, if the company's criteria is met, that student gets certified by the company & MentorMind.
Motivating MentorMind
This one time, we had a college student who did a menternship in HR. She was an MBA student from a small college in Hyderabad. Through college placements, the highest package she would have got was about 5 lakhs/annum. Once she completed her internship, she got an offer for an internship as well. With her skills and knowledge, she was able to bag a job that offered 6 lakhs/annum. The best part of this was when she brought her company back to us, saying they wanted to work with us for hiring because we were doing such a great job!
Another incident that stands out in my memory was a student who did a computer science menternship. She was working on a task, and while we chatted, I remember one of us suggested setting up a call to help her out. She said she preferred chatting because she was hearing-impaired. It felt so good, that albeit accidentally, we could help someone access her life of dreams.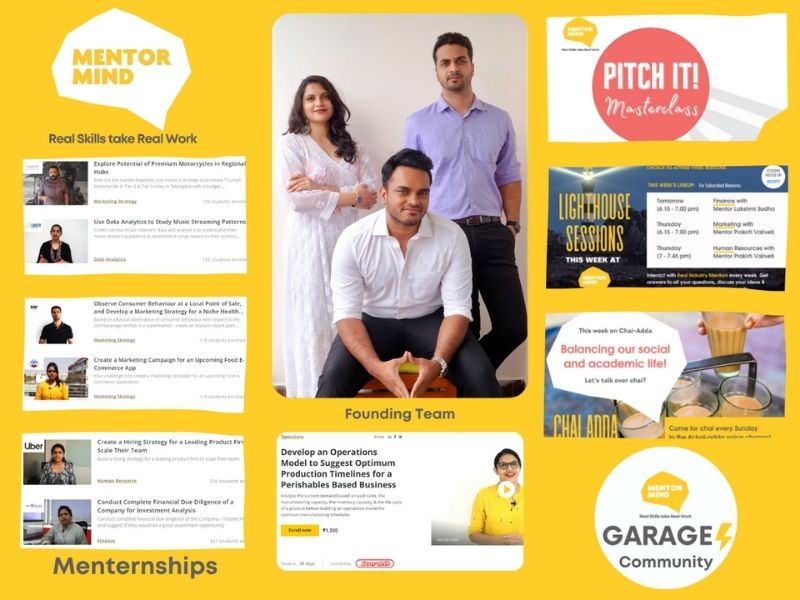 Our Favorite Stories
This is my other favorite story! It's one of a girl who comes from a lower-income household in the outskirts of Hyderabad. She graduated from a small college and wanted a job in a bank, but she didn't have the required skill level in finance. Each of our menternships is Rs. 1,500 because we try to stay affordable. She did one mentership with us and got certified. She went on to get the job of her dreams based on her work and the certification. That was such a huge win, she sent gifts to our entire team, and it was a very sweet gesture.
We also had a "woohoo" moment with Uber. They were looking to hire 10-12 HR interns and instead of going through 100s of CVs, they chose to put up a menternship on MentorMind. 12 of our students got the internship, which was a massive win for the convictions we stand for!
Our Stalwarts
Our primary stakeholders are the students. Every time we have mentees who come back and tell us we've made a difference in their lives and helped achieve their dreams, it's a confirmation of our vision.
I'm also extremely lucky to have a very understanding dad. Almost everyone in my family is an engineer, me included. But while the rest of them chose to go to the US for their masters, I went to Paris to do my masters in management from ESSEC. On graduating, I got a job in Singapore in Consulting but chose to come back to Hyderabad to build MentorMind. My dad supported my purpose every step of the way. He's been my biggest source of support and inspiration.
I also think that in a start-up, it's important to have co-founders who complement you in terms of vision and intent. At MentorMind, we're all on the same page and that's very important in terms of setting goals and achieving them.
Shoutout To Tools That I Love
I'm an extremely organized person, which is why I need a planner. I have this fantastic tool that lets me plan daily, weekly, and monthly goals; I can list my intent and categorical aims as well. This is what keeps me sane and working effectively! Along the same lines, Excel is another lifesaver.
Another bit of advice for startup founders out there is never to underestimate the power of a good presentation. Canva is an amazing platform, kudos to this team of women who've made design so accessible and easy to use for absolute beginners.
Marching Ahead With MentorMind
We already work with some colleges to integrate into their curriculum so that students can build the skill sets they will need while they're still at college. We're looking to expand this to reach deeper into Tier-2 and Tier-3 cities, towns and colleges, starting with the Southern and Western parts of India.
Would you like to work with the brightest minds at MentorMind? Or are you looking to do a menternship to widen your skillsets? Get in touch with them on their website, Facebook, Instagram, Twitter and LinkedIn! They have some super interesting menternships in HR, Finance, Marketing, and Data Analytics. Show the rockstar team at MentorMind some love by reacting, commenting and sharing this post. If you'd like to read other stories in this series, check them out now!