We believe that Marco Polo brought the dish of Pasta to Italy after his travels in the late 13th century. But what Marco Polo brought then is now embraced worldwide as a beloved dish, enjoyed both at upscale restaurants and as street food. In fact, it is such a global sensation today that October 25th has been dubbed as International Pasta Day! Bet you didn't know that. This widespread adulation of pasta has led to tens of thousands of varieties of the same springing up every day. If you feel like enjoying a quick bite of the ubiquitous pasta at home, here are 4 different simple pasta recipes that you can whip up in 20 minutes (or less!)
1) Baked Veggie Cheese Pasta
If you're a vegetarian and a pasta-lover, don't you worry! There are plenty of vegan/vegetarian options that you could relish.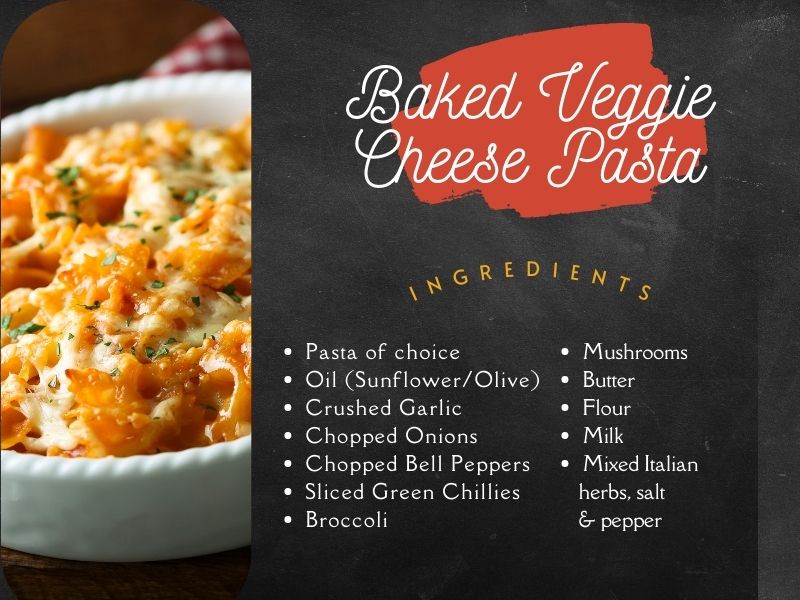 For a quick-bake Veg Pasta, cook your pasta until soft (Make sure you don't overcook it as you have to bake the pasta again). In another cooking pot, heat some sunflower oil, add 3-4 crushed garlic, 1 cup chopped onions, 1 cup chopped bell pepper, 2 sliced green chillies and 1 cup sliced broccoli. Sauté until soft.

Once the vegetables are cooked, add 1 cup shitake mushrooms. If you're not a fan of mushrooms, you can skip this step.
Add 1 tsp mixed Italian herbs, 2 tsp crushed black pepper and salt as per taste. Add the pasta and cook on medium flame until well-integrated. Set the pasta aside in a 4×4 baking tray.
For the sauce, take a fresh pan. Melt 2 tbsp butter and add 2 tbsp flour. Once they blend without lumps, add ½ a cup of milk, a pinch of Italian herbs and salt as per taste. Add more flour/milk to adjust the consistency and cook it for 5-6 minutes on a medium flame.
Add the pasta sauce over the pasta. Top it extravagantly with Provolone and Mozzarella cheese. Add just a dash of Italian Herbs for an extra kick and bake it for 10-12 minutes after pre-heating the oven at 180 degrees.
2) Peri-Peri Penne
If you're a fan of the heat, try this Peri Peri Penne to kick the spice up a notch (quite literally!)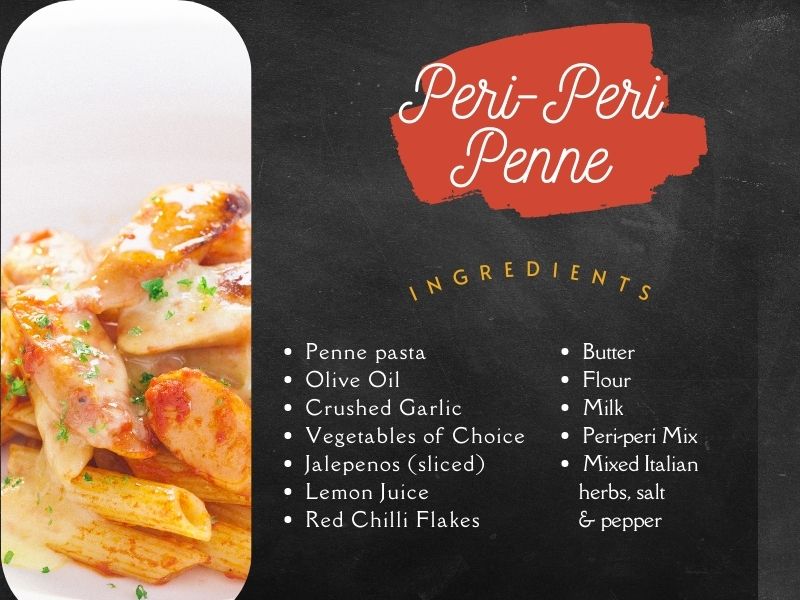 Add penne to boiling water, with salt and olive oil for 7-8 minutes and drain the water.
In another pan, heat some olive oil and add 3-4 shallots of chopped garlic. Add ½ cup of vegetables of your choice. Sprinkle salt and pepper as per taste. Put in 1 tsp each of lemon juice, red chilli flakes and oregano. Mix and sauté on medium flame.
For the Peri Peri mix, add 2 tbsp chilli powder, salt to taste, 2 tsp garlic powder, ¼ tsp ginger powder, 1 tsp sugar and 1tsp oregano. Mix until well integrated. Store the powder in an airtight container so that you can use it later too! (It really adds a punch to your midnight Maggi noodles!)
For the sauce, heat butter and flour in another pan and cook until the raw smell disappears. To this, add 1 litre of milk with salt and pepper to taste. Toss 2 tbsp Peri Peri mix into the pasta sauce and add the sautéed vegetables and cooked pasta. Top it with a heavy dose of all kinds of cheese!
3) Crispy Pasta Chips
These Pasta chips have taken over the Tiktok scene lately–and for good reason! Not only are they a delicious, innovative twist to the traditional pasta, but they're also incredibly crunchy and easy to make.
Cook some Rigatoni until soft and mix it thoroughly in olive oil. Mix in salt to taste, 2 tbsp mixed Italian herbs and a liberal dose of paprika. Fry it in your air fryer at 200 degrees Celsius for 10 minutes. You could also fry it in olive or sunflower oil until crisp. Enjoy it with some Thousand Island dressing or salsa for the best taste. Remember to stay stocked up because you literally can't stop at 1… box!
4) Chicken Pasta in White Sauce
If you love chicken and pasta, the best thing to do is combine the two in the best possible way! Take 150g of diced chicken and stir-fry it on medium flame. Season it with salt and pepper as per taste and set it aside.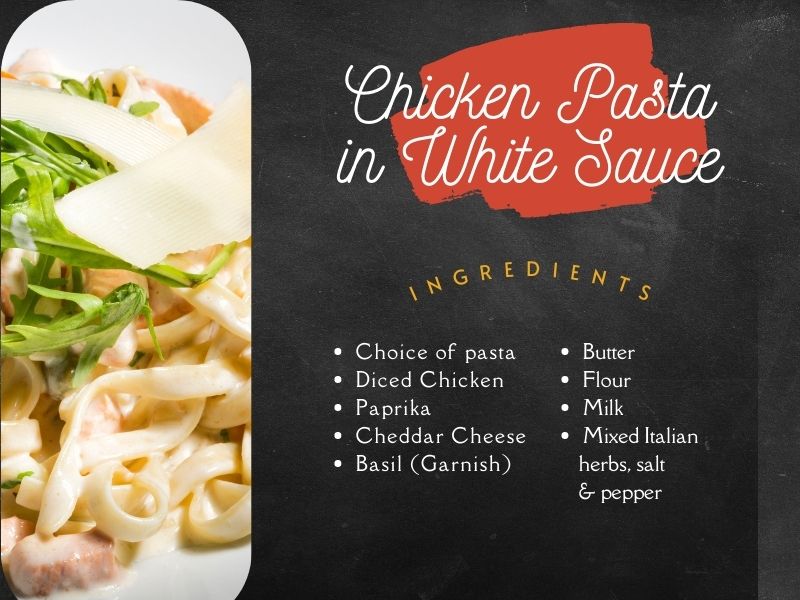 Melt 2 tbsp butter in olive oil on medium flame. Add 1 tsp chopped garlic, 2 tbsp maida, 2 cups milk, ½ of each of mixed Italian herbs and mix it well until it simmers. Then, sprinkle in salt and pepper to taste. Mix ½ cup cheddar cheese into the sauce gently. Add the cooked pasta and cooked chicken until it is thoroughly integrated. Finally, throw in some grated cheese and a pinch of paprika. Garnish with a twig of basil for a delectable, cheesy delight with the goodness of chicken.
Love our pasta recipes? Check out some of our other simple recipes for beginner chefs! If you have a favourite recipe you'd like to share, let us know in the comments below. You can never have enough pasta recipes!