Diwali brings light and hope into our lives. This year, we're hoping that we're seeing the tail-end of the pandemic and that businesses can bounce back brighter than ever. ApeCape's Spark-A-Biz Startup Stories bring you sparkling start-up success stories while sharing a glimmer of insight into different markets. Want inspiration to start your own business? Spark-A-Biz this Diwali!
Nirmal from Outdo kickstarts this series. How do traditional Indian businesses make the digital transition? It's honestly not difficult with OutdoCart to help them set up an online shop, manage inventory, collect payments, market themselves and more! Here's how the Outdo Journey unfolded, brought to you in Nirmal's voice.
Serving the big and the small
Outdo Inc. started in 2016 as a design and development company. By 2017-18, we launched OutdoCart – a platform that helps traditional Indian businesses and first-time entrepreneurs start their digital journey by setting up their online e-commerce store. So, on the one hand, we work with some of the biggest names in the industry like Tata, LG, HDFC and Titan. On the other, we provide e-commerce solutions and a retail platform to businesses of all sizes who are just making a move online. We wanted to bring the internet to the smallest users, in their language, for their use with no caps, and in the most affordable range.
COVID and The Online Transition
As the pandemic started, we took a conscious call to give free online stores to troubled businesses. This included providing the required hand-holding to set up their store and train them on how to use it. Later, we launched a Covid Relief Plan for everyone so that they could avail of our Rs. 999 plan at 50% off at just Rs. 499 a month. This way, it was a no-brainer for any business who wanted to start their online store. 
We've also seen there's a huge learning curve for these businesses. So, we ensure that they get support in regional languages, help them set up their websites for free, understand GST better, answer their queries – all this serves to make sure that they have a smooth experience. 
Hurdles we've OutDone!
Right from the beginning, we've been bootstrapped, so there's a constant hustle to balance cash inflow vis-a-vis outflow. The biggest challenge that a service-based company faces is the chicken and egg problem. You need more people to serve more projects and you need more projects to hire more people. Your company is always at risk if this balance goes wrong. Once you are able to walk this fine line, you know you have built a strong foundation for your company. 
I'd say we were able to win the more prominent clients over by sheer hard work and showcasing our talents.
I remember a time when we got a German Bank that wanted us to get a project done within a short deadline of 7 days, and we were able to pull it off in 2 days. The bank's CEO personally sent us an appreciation email, saying "You guys really Outdo everyone else!" It's times like this that we know we've managed to capture the clients' interest.
And it really worked out for us in this case. He recommended us to the team at the Rio Olympics, and we were able to do websites for some of the sprinters. All this when we were just a 3 member team.
Hustle Hard:
Today, Outdo doesn't have a sales team; all of our leads are from inbound marketing. For most service-based start-ups, this is a dream that we all strive towards. What worked for us was sheer hard work and determination. We give every pitch our 100%. Right from our very first client who wanted to invest a hundred thousand dollars for a small stake in the company to winning projects with a team of 8 against other people who were pitching with a 100 member strong team – we've been able to back our pitches up with hard work. 
Entrepreneur life isn't about coming up with a great product and then just sitting back and letting it set the pace. We've worked 19 hour days, I've even attended a meeting after an accident. I reached my office in an ambulance and closed the deal within 45 minutes. I'm not saying this as some sort of a brag; it's just how deep the passion is for what we do.
As you grow, you get more mature about what you can do, what you should say no to and what to delegate. When you are in the growth phase, you are constantly challenging yourself. It's a continuous process. There's a new challenge every day, but as time goes by, you are more settled, and you know you deal with it.
The Outdo Mantra:
I always tell my team that vision is important. You have to think of things that people haven't imagined yet.
To meet short-term goals – hiring, asset management, and the like – be impatient. Get things done as soon as you can. However, you need the patience to realize your vision to its full potential for your long-term goals. Things will happen in the long term; you have to be willing to wait for it.
The other important lesson for all entrepreneurs is your team culture. Be courteous to everybody. Just like I have my role and work in the company, my team members do too. We are all equal; we just have different levels of responsibility. Never sell yourself short, or feel like you can belittle another person for anything. I think it's because we built this culture that we could meet industry standards to payments even during the pandemic, and people stay motivated to work with us.
A Happy Outdo Moment
I remember one of our oldest clients; she wanted to start selling masalas online. It was her birthday, and her daughter decided to start her Outdo store to commemorate the day. They reached out to us on her birthday evening, yet we were able to set everything up in just two hours. From her website to the logo, product catalogue – everything was ready in a couple of hours. She was so touched and so happy, she actually sent a video recording thanking us. Gestures like these reinforce our belief in what we do and motivate us to do more every day. 
Our Biggest Support Systems
I actually come from a business family, so when I told them I was considering leaving my job and starting something on my own, they never questioned my decision. All that they wanted to know was when I was planning to start. My friends were also really encouraging; as soon as we launched, they were spreading the word far and wide on social media, which got us our first client in just 2 days. Deepika, my wife, is also a tremendous support in every way!
A lot of people who've worked with us have also been our cheerleaders. It makes me grateful that we've touched so many lives. All our teammates have felt that this was their own company, not that they were working for someone else. We built Outdo together. We've never ended a relationship on a sour note, so even our ex-colleagues have never spoken badly about us. 
A lot of entrepreneurs worry about validation constantly. So when people show their faith in my vision and make it theirs, too, it is a massive reinforcement of what we believe in and build here.
The Outdo Journey Forward
We want to educate Indian businesses and entrepreneurs (old and new generation) that you need to build convenience. Ecommerce is not about the competition of price, it's a constant competition for attention. Your competitor is online and is just a few clicks away. Given today's busy lifestyle, convenience is the deciding factor (key competitive advantage), not price. You don't want to limit yourself to the footfall in your store, you want it to be multiple times more than that. And that's the main reason you need to build your online store.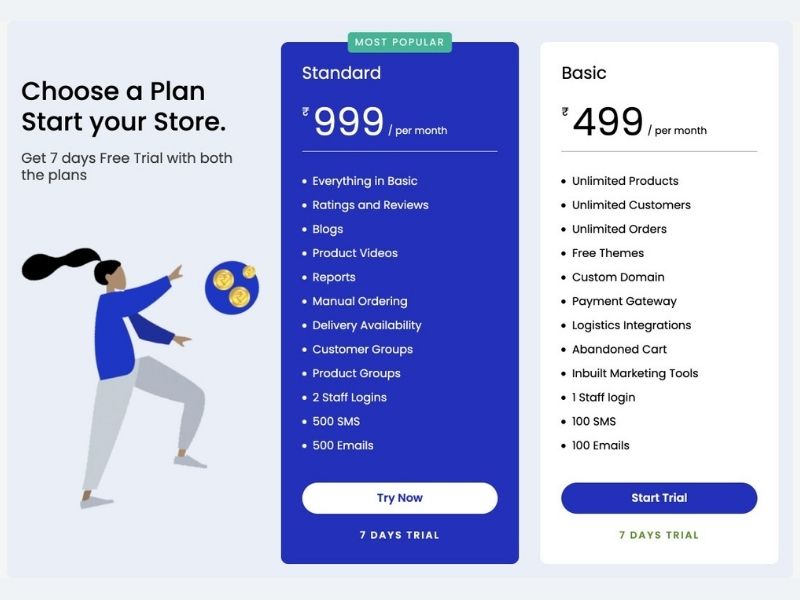 In the next year, I want to onboard as many Indian traditional businesses as possible at a cost they won't have to think twice about. At Outdo, we'll help them market themselves to increase revenue. From microloans to websites to GST advice and more, we will do what it takes so that our customers achieve growth. 
I also have one personal goal for the next year. I'd love to have stores from every industry with the best-sellers across India; to the extent that I would be able to purchase every brand and product from an OutdoCart store instead of shopping from Amazon or Flipkart.
Loved the Outdo story? Show your support by liking this post and sharing it on social media! You can even find Outdo on Facebook, Twitter, LinkedIn and Instagram and follow them for new updates. If you'd like to Spark A Biz with ApeCape this Diwali and go digital with Outdo, we have a Diwali gift for you! Get an additional month free from OutdoCart when you sign up with this link!
Check out our other Spark-A-Biz Startup Stories here!