The relationship between a mother-in-law and her daughter-in-law is often be portrayed as mean, filled with constant disagreements, tussles, jealousy, hatred & competitions. But does it always have to be so? We've made a list of the 4 best saas-bahu pairs that are real goals from Hollywood & Bollywood (and one real-life team that brings happiness to our Instagram)! Their relationships are endearing and adorable to watch, and we hope this inspires you too!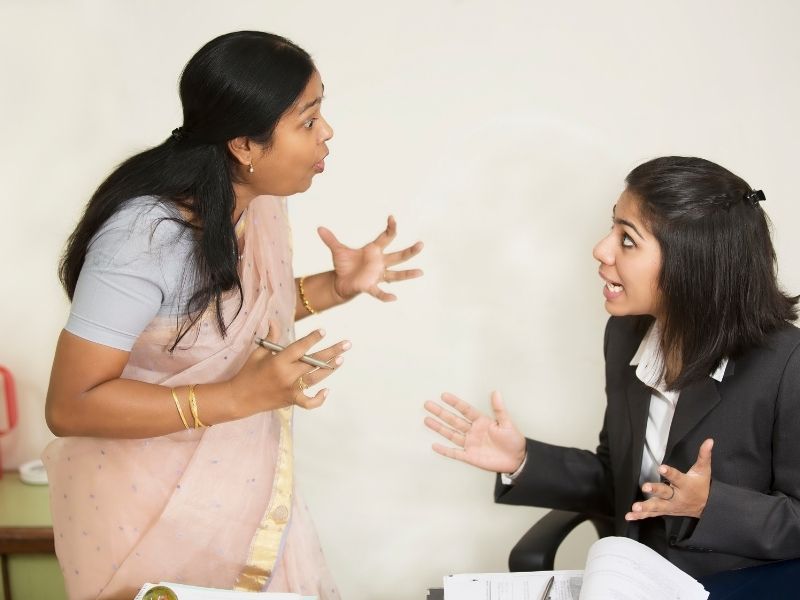 1) Viola Fields & Charlie (Monster-in-law)
If you haven't watched this movie, you're missing out on a fantastic breezy comedy that turns out to be a battle of wits between two women! The film revolves around the story of Jennifer Lopez, a dog-walker, falling in love with a wealthy doctor. His mother, Jane Fonda, feels threatened by another woman's presence in her son's life. She tries to do everything in her power to break the alliance. The banter and antics turn quite horrid, bringing it to a point where there would be no wedding. Finally, they come to an understanding – putting love and family ahead of their egos.
We can pick up the strong conception of family values, as well as the element of redemptive forgiveness that both women display! They're both snarky yet quirky, and we love that about these two spectacular women.
2) Maya & Monisha (Sarabhai vs. Sarabhai)
This timeless show was way ahead of its time when it came out. Based on an upper-class Gujarati family living in Bombay, the series revolves around their everyday lives. However, the focus is on the high society matriarch and her middle-class daughter-in-law, Maya and Monisha. Comedy and conflict go hand in hand with these two on an everyday basis. The shallowness between the elite (Maya) and the middle-class (Monisha) forms the base of the show's humour.
The famous catchphrase "It's so middle class!" is constantly directed towards Monisha. She aims her sarcastic taunts at Monisha but always ends it with a "Joke tha, beta". Maya's intentions towards Monisha were not sinister or malicious, but only to point her errors out. Deep down, we all knew she was fond of Monisha – she wouldn't be the Maya we knew if not for Monisha being true to her values and ideals! We absolutely loved the dynamic!
3) Devki & Radha (Tu Tu Main Main)
Tu Tu Main Main was the pioneer of snazzy funny banter between women. It gave us years of laughter thanks to the two lead women – the stubborn mother-in-law and the boisterous daughter-in-law. The bickering between these two was the show's bedrock, with their poor husbands intervening time and again. It didn't matter what the topic of discussion was; you'd find them going at each other, occasionally playing tricks on each other!
Despite all that, it also made us understand that having a bad relationship with their mother-in-law can mean one can still sort out things and have fun while you're at it! This show became a cult classic, with all the mums and daughters (in-law) imitating the show's leading women! Never a sad day if you're a fan of Tu Tu Main Main!
4) Claire & Gloria (Modern Family)
Everyone's favourite Modern Family is here to take centre stage! Claire and Gloria aren't your traditional saas-bahu jodi, but they might as well be one, what with all the bickering & cold shoulders! Their relationship evolves over the years into quite an equal and loving relationship. Sure there's the whole age problem and some amount of rivalry for being the leading "woman" in Jay's life. They soon manage to overcome that, and Gloria and Claire find a way to carve their niche in the family.
The female camaraderie and friendship that we see through their relationship is a treat, especially in pop culture, where it's the norm to pit women against each other. Gloria and Claire are worlds apart. Still, they find a way to appreciate each other's differences rather than letting insecurity get the better of them!
5) Sameera Reddy and Manjri Varde
Known on Instagram for their Messy Mama and Sassy Saasu personas, these two extraordinary real-life ladies show you how amazing the MIL-DIL dynamic can be. They cook together, have mock fights, dance together, shop together – in fact, they show you how a world with women working together can be a wonderful place.
Especially in Indian soap operas, there's a careful construct of the evil mother-in-law and victimized daughter-in-law. This makes for hours and hours of endless (if relatively mindless) entertainment. Luckily, this pair keeps it real, and it is heartening to see their banter on Instagram, providing millions of Indian viewers with an alternate version of this relationship.
Do you have a favourite mother-in-law and daughter-in-law pair? Let us know in the comments below; we'd love to see more of these modern portrayals! If you want to read a little more about some fantastic but weird TV show friendships, check them out here.