Diwali brings light and hope into our lives. This year, we're hoping that we're seeing the tail-end of the pandemic and that businesses can bounce back brighter than ever. ApeCape's Spark-A-Biz Startup Stories bring you sparkling start-up success stories while sharing a glimmer of insight into different markets. Want inspiration to start your own business? Spark-A-Biz this Diwali!
Our next feature is Aman from AroLeap. When you think of a home gym, do you think of bulky, cluttering equipment and huge investments? Luckily for us all, Aman and his team have developed an exceedingly fascinating alternative – Aroleap! This smart home gym is transforming lives; let's find out how in Aman's voice.
Inception: Chasing Fitness
In 2019, 3 friends and I were discussing starting up. We have a lot of things in common – we're from the same hometown, have known each other for over a decade, graduated from IIT Delhi and are all fitness enthusiasts. I'm a marathon runner, and thanks to a hectic schedule, I could only fit the gym into my schedule in the morning. If I needed to set up a home gym, it would take up too much space and was a considerable investment. We quickly realized we all faced a similar problem.
In our quest to find a solution, we discovered a product in the US market. It's a revolutionary smart gym that uses electromagnetics paired with technology to bring you strength training in the comfort of your home. Even cooler? It just took about as much room on your wall as a TV screen.
However, it was really expensive. Export duties, shipping and other costs would mean that it wouldn't be affordable to most people.
Taking the Leap
We really wanted to bring something like this to the Indian consumer – a smart, affordable home gym. Two of us are into robotics, and we decided that we would give building this a shot. We were pretty confident that we could build a similar technology and make this work!
It was important to us that we get this exactly right. While people sign up for gym memberships, over 85% drop out within the first couple of months. These are the people we wanted to bring AroLeap to – to help them stay fit at home. So, we did a lot of research and quickly understood that the most important thing about fitness is strength training. Scientifically, it's the best way to ensure overall wellness. Indians are getting more conscious about this now; people in their 40s and 50s are looking for programs to get healthier and stay in shape.
The Launch Pad
We built the product – Aroleap and started the POC when we were still at our day job. We wanted to get this right and understand the market before we turned to this full-time. It took 6 months for us to perfect the product, but once we did that, we saw that we had captured the market's interest.
At this time, the pandemic struck. For many people stuck at home and thinking about getting fitter, this was the perfect solution. We quickly closed seed funding and then chose Bangalore as our first market for beta testing. Rather than push customers to buy the product outright, we're focussing on a rental model. The devices come with a personalised tab for each user in the family so that every person can keep track of their goals. People have quickly taken to AroLeap, and we're getting rave reviews!
The Highs and The Lows
While Indians are increasingly more aware of fitness, getting support – from investors, markets, and so on – for a physical product is still difficult. People are more used to software start-ups, so that was a reasonably big hurdle to overcome to get them used to the idea of this product.
But the very first POC we did, which succeeded, was such a massive rush for us. It was a simple motor and string, but watching our product create the resistance required for training was an indescribable feeling of euphoria.
Like in most entrepreneurial journeys, there will be highs and lows. You need your co-founders to believe in the product as profoundly as you do. I was fortunate in this regard since we had known each other for decades and we were equally committed. Also, especially for IITians, there's this pressure once you leave college – about the jobs you choose and your career path. Having family support at this time – to pursue our dreams to build this product – made all the difference.
Leaping Ahead:
The next milestone is to go commercial; we're looking at a usage cost rather than an upfront cost for our customers. In the B2C space, we want to build a rental model. We plan to bring trainers on board and create 4 and 6-week programs around strength training, with mobility exercises and the like, and see how it works for our clients.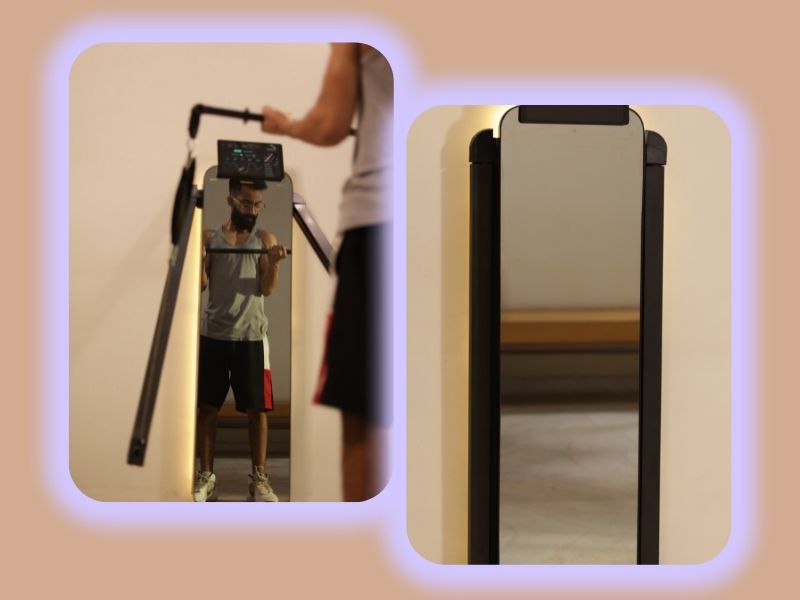 Brands are made when you reach the end consumer in their house. On the other hand, we know that scaling and volumes are what work in B2B. In the next one year, we want to see at least 5000 units in houses and commercial spaces, build a tight-knit community of fitness enthusiasts and see the difference it makes to home workouts.
This is just the start of the Aroleap movement – we'll help our people start and maintain their fitness journeys with us!
If you are in Bangalore and want to be part of AroLeap's fitness journey, sign up for their program on their website! Join the community on Facebook, Instagram and LinkedIn. Show your support by liking this article and sharing it with the fitness fanatics you know. Check out the other stories in the Spark-a-Biz Startup Stories series here!