Diwali brings light and hope into our lives. This year, we're hoping that we're seeing the tail-end of the pandemic and that businesses can bounce back brighter than ever. ApeCape's Spark-A-Biz Startup Stories bring you sparkling start-up success stories while sharing a glimmer of insight into different markets. Want inspiration to start your own business? Spark-A-Biz this Diwali!
How many times have you opened your wardrobe and sighed because you just didn't have the right outfit? Since Diwali is the best time to buy new clothes, 30Looks brings you fresh fashion at affordable prices with the best quality. Whether it's a board meeting in the morning or club-hopping at night, 30Looks has you covered! Read how 30looks evolved into a one-stop fashion destination for women in the voices of George and Deepika.
How The Journey Began
30looks started a couple of years ago. Like a lot of others, I was waiting to start something of my own and my background in retail and passion for marketing drove me to take the plunge. When we first started, it was called 30Shades.com, and we catered to mens' fashion But there was a constant feeling that something was missing. That's when we decided to make the pivot into womens clothing and rethink the space we wanted to carve out for ourselves.I met Deepika shortly after this, and she has truly been a blessing! She brings insights, a fresh perspective and new ideas to the team.
Job interview, coffee date, a casual brunch, clubbing, board meeting – all her fashion needs should be in one place. Nobody likes to repeat a look, so we called this 30looks because we have something new for all 30 days of the month.
There are a lot of budget options in the market, but then quality takes a hit. That's why we wanted to do things a little differently and decided that while we cater to the budget-conscious shopper we would do so without compromising on quality at all.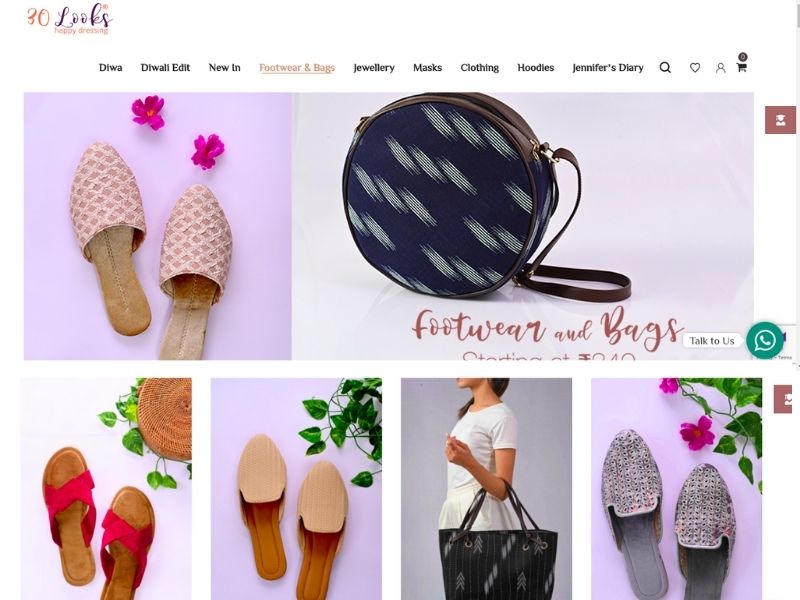 Our Niche and the Pandemic
We got our stocks in August of 2019, and we launched on November 1st. By the end of March 2020, India was in a lockdown. We had just taken baby steps into the market, and we were forced to hit the brakes. Our supply chains, teams, shipping – everything was badly-hit.
Unfortunately, clothing isn't an essential commodity, so we couldn't fulfil our customers' orders. I'd still say we've been extremely fortunate and have been able to bounce back. We have the most supportive, understanding team, our vendors have stood behind us, and our customers have been so patient and encouraging. So as soon as the restrictions eased, we shipped out products at the first chance we got.
Team – The Vital Ingredient
Deepika had had a bad start-up experience before she joined us. Still, she took an interview with us.
Our team works on this principle – we're open to everybody's ideas. I don't think anyone in our team feels they haven't had a chance to put forth their suggestions. Our process is democratic and transparent. If you have an idea in mind, you pitch it to the team. Whenever we have two equally good ideas, we put it to a vote, and that's how we try to be fair to each idea.
The 30Looks Milestones
Since we place such an emphasis on team, we also know how important it is to celebrate every small milestone and victory. When we started in November 2019, we didn't know where the next order would come from. We were a small dot in the e-commerce space, and we weren't sure how people would find us.
Still, every time we achieve a goal, we celebrate – be it a team lunch, a hi5, a party. The first time we could count on 10/orders a day consistently, whenever we met our social media goals, every small triumph is a yahoo moment!
The Highs And Lows at 30looks
We're a small brand, with limited resources. With what we have, we're trying to grow this in-house. So far, we're bootstrapped and are not looking at external investment yet. Also, because we are young, credibility is always a question mark. People have many questions in mind – "Will I get my product? Can I return my order if I'm not happy? How do I know I'll get what I ordered?"
Slowly, this is changing because people are getting to know us. Once they try our product, they love the quality. We also get a lot of positive feedback about our service. A large chunk of our customer base comes from word-of-mouth. Our social media presence is also picking up, we're consistent with what we do, so we're seeing good traction with that as well.
The 30looks Support System
When you start up, a lot of people do question you, and you tend to question yourself. Our biggest cheerleaders for each of us has been our families – our parents, siblings – they've been incredibly supportive.
Our team is our strongest asset. Each one of them has taken that leap of faith with us. Internally, we've all got each others' backs, if anyone's having a bad day, the rest of us pick them up.
Externally, a few people have been very integral to our journey. We have some industry mentors who are more well-wishers and friends today. They've come with key inputs at critical moments and helped us navigate unfamiliar paths with ease. One amongst them whom I must express my gratitude for is Mr Raj Mohan Tella, the founding partner of Perception Essentials, who has walked with us every step along this journey.
The 30looks Future
There are some good decisions that I've taken in my entrepreneurial journey. We're sharing this to help others who are on this path. I'd say a credible and dependable social media presence is crucial. Your customers need to know they can trust you. Beyond that, the biggest thing that has helped us is that we are our own biggest critics. You need to have a sustainable model that can grow organically. You'll always want to chase new ideas; you need to know what works and what doesn't. Internally, we have a strong value system, and all our team members' ethos and energy are in sync.
Looking into the future, we'll be the one-stop-shop for women looking for multiple fashion needs. We work with some vendors who are very interesting, and we're looking at some amazing collaborations going forward.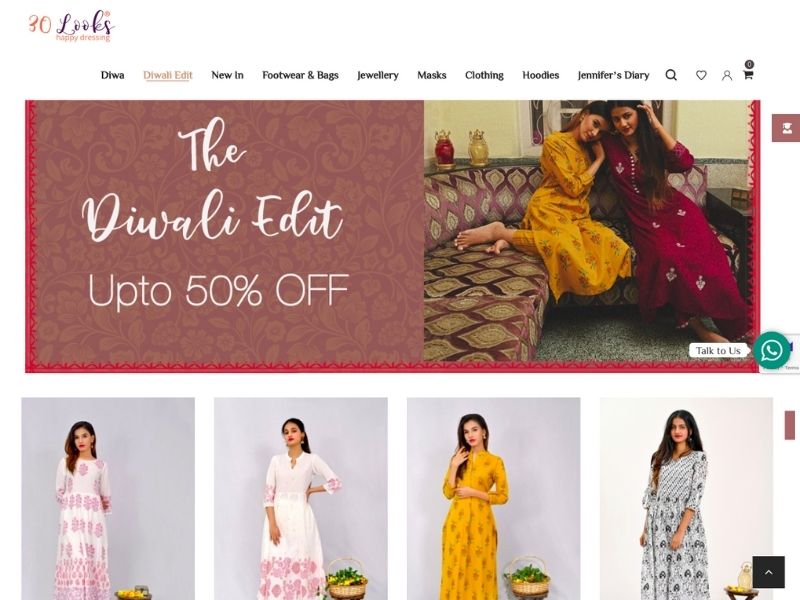 30looks turns 2 years old today! To celebrate this milestone and Diwali, we're offering 50% off sitewide with free express shipping from 1st – 14th November 2021. Check out their collection here, and show them some love on Facebook, Instagram and YouTube.
Read more Spark-A-Biz stories here, for some Diwali inspiration.