Do you have a massive sweet tooth and devour anything that has a sugary taste to it? Then this article is just for you! The festive season is here, and for everyone missing your home festivities, don't you worry! We've made a list of the top 7 Indian snacks & sweets you should be treating yourself to right away. So, indulge in some sumptuous festive Indian snacks cause you deserve them!
1) Jalebis
Deep-fried flour mixed in sugar syrup? Bring it on. Jalebis fear no competition! They're crunchy, warm, syrupy, and bring back a rush of childhood memories. Originally called Zalabiya, a treat from Iran, Jalebis became a quick favorite in India! Looking for the perfect Jalebi? Try Old Famous Jalebi Wala in Delhi, MumbaDevi Jalebi Wala in Mumbai, Anand Sweets & Savouries in Bangalore or High Court Jalebi in Hyderabad. Want to order some right away? Here you go!
2) Mysore Pak
Do you want to enter sweet heaven? Mysore Pak is the only way to go, friends. A humble entrant to this list, it's an Indian sweet originating from Mysuru, Karnataka. It is prepared only with pure ghee, sugar, gram flour, and lots of love. The story has it that this sweet of Royalty was first created in the Royal Kitchens of Mysuru nearly 100 years ago. The Royal Family then asked the sweetmaker to set up shop right outside the palace. This infamous store came to be called Guru Sweets! If you want to get your hands on this without the hassle of travelling, your friendly Ape has your back.
3) Samosas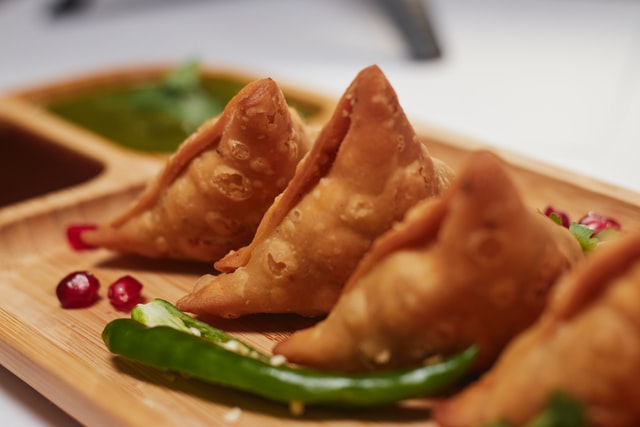 The quintessential party snack, we'd disappoint ourselves if we didn't mention Samosas. Crispy on the outside, scrumptious on the inside, they can be made with various fillings to suit the occasion. Originally introduced by the Middle Eastern chefs during the Delhi Sultanate rule, we now know samosas to be a part of all festivities, gatherings, and parties alike! While you definitely have a favorite samosa-wala, don't forget to stock up on some mini samosas and chutney for any guests who might drop by!
4) Rasgullas
Roshogollah or Rasgullas come from the bylanes of Kolkata, or do they? Did you know that in 2015, a committee formed by the government of Odisha established that rasgullas originated in Odisha as an offering at the Puri Jagannath Temple. These little balls of happiness are made from Indian Cottage cheese (chhena) and semolina dough and cooked in a sugary syrup. You can get them at most sweet shops near you, or here as well if you want them home-delivered.
And oh, if you want to gift sugar-free, guilt-free rasgullas to diet-conscious people, here's an excellent choice for you!
5) Gulab Jamuns
Growing up, we all loved one sweet in particular – Gulab Jamuns. Originated from an Arabic dessert named Luqmat-Al-Qadi, the Mughals brought them to India, and there's no looking back. This sweet Indian dish is made from khoya (milk solids) and garnished with almonds and cashews, and you can relish it hot or cold! Quick tip, Gulab Jamuns are also the best homemade snack there is, so whip up a batch for yourself because it's super easy to prepare. And relax, nobody is judging you based on the roundness of your jamuns – one bite, and you'll send them into sugar heaven.
6) Pedas
With festivals just around the corner, Pedas, especially Mathura Pedas, can induce a serious craving for home! They are indispensable during religious festivals (offered as "prasadâ€) and are even said to be Lord Krishna's favorite snack! Made from fresh mawa (milk solids), milk, sugar, and ghee with a pinch of cardamom powder, these pedas are bound to be your favorite! Order online from Brijwasi Shop Mathura and thank us later!
7) Chakli
Festivals without Chakkli/Murukku? Blasphemy! Known as Chakkuli, chaklis, bahjini, murukkus, chakris, and more, this spiral crunchy Indian snack is an absolute show stopper on any occasion. Made from various flours such as rice, Bengal gram, and black gram (with variations that include various spices), you know you won't be eating just one! Known to have its origin from the South of India, it's popular across the country today. Grab a pack today, and munch away.
We chose 7 important snacks that can make any place feel like home during the festive season. What's your favorite snack, or the one taste that can transport you back home in an instant? Let us know in the comments below. And hey, in case you think we forgot mixtures, we didn't. Take your pick now!
If you prefer chocolates to Indian sweets, fear now, we've got you covered there as well.