Who doesn't love to have a steaming mug of hot chocolate in winters while curled up on a couch? It is even better when you are having good times with your loved ones or reading a book. So how many mugs of this rich drink can you go for in a day? 2? 3? 4? Or more? How about trying a different hot chocolate drink every time? Try these amazing hot chocolate recipes. These are deeply indulgent and one cup simply will never be enough.
Pamper your palate and warm your tummy with these lip-smacking treats. Look out for the quick recipes and save this post so you can use it whenever you need a pick-me-up!
Hot Peppermint Patty
If you like a hint of mint with chocolate, this is for you. Spiked with a trio of boozy liqueurs, this cocoa recipe is a great pick for winter nights, be it for a campfire, on a hill station, or simply when it is chill or snowing outside. It is more nourishing for your body and keeps you insulated against the biting cold.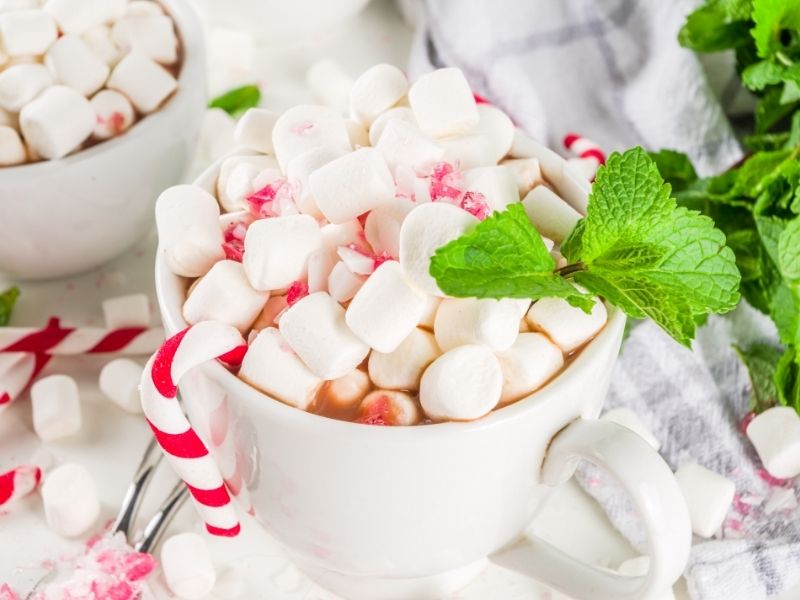 Quick Recipe – Peppermint Patty Hot Chocolate
In a saucepan, combine 1.5 cup cream, 1.5 cup milk, one-fourth cup sugar, and salt to taste. Heat over medium-low flame. When the cream mixture just begins to steam, add 6 ounces of bittersweet chopped chocolate, and stir, until melted. Stir in 3 drops of peppermint oil. Pour the hot chocolate into cups. Add to its richness with sweetened whipped cream and chocolate shavings on top. It's drool-worthy!
Red Velvet
Relish the flavour of the velvety cake in a piping hot chocolate cuppa. It is loaded with the delectableness of cocoa and the inviting colour of red velvet cake. So, let's quickly get its recipe to sip on this luxurious drink. Here is one of the top hot chocolate winter delight recipes!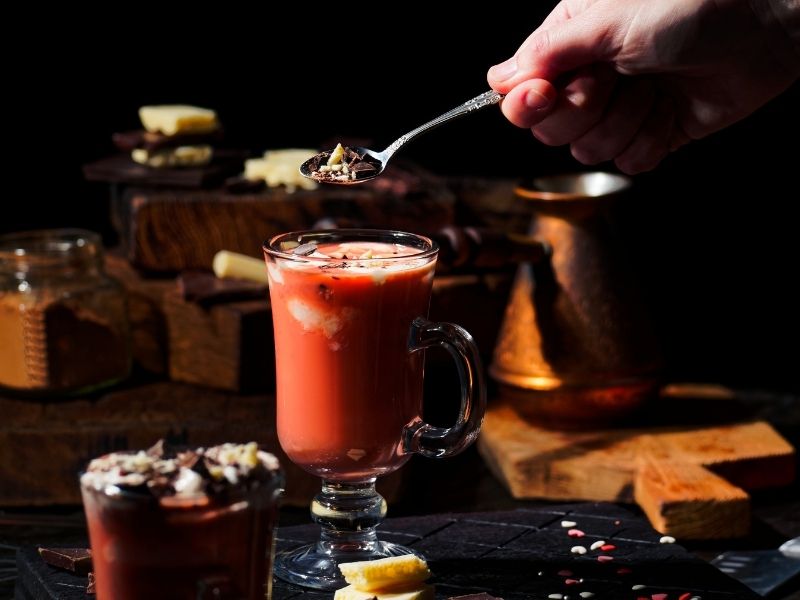 Quick Recipe – Red Velvet Hot Chocolate
Beat together 1 cup heavy cream, 1 teaspoon vanilla extract, and 2 ounces cream cheese (kept at room temperature) until peaks form. Cover it and chill.
Now simmer 4 cups over medium heat, add 2 tablespoons and stir until sugar is dissolved. Add ¼ cup unsweetened cocoa powder to it. Remove from heat. Whisk in 1.5 teaspoons of red food coloring.
Pour the milky goodness into serving cups. Top those up with a generous dollop of the chilled frosting-like cream cheese whipped cream prepared at the start. Dust with crumbled red velvet cake. Gulp down the velvety goodness, and go back for seconds!
Warm Chocolademelk
A unique name with even a more unique taste. Hailing from the Netherlands, this Dutch Hot Chocolate stays in demand all around the year. Kids enjoy it as it is and adults add a dash of brandy or rum to it. Nothing can compare to a homemade steaming cup of hot chocolate made from wholesome dark chocolate.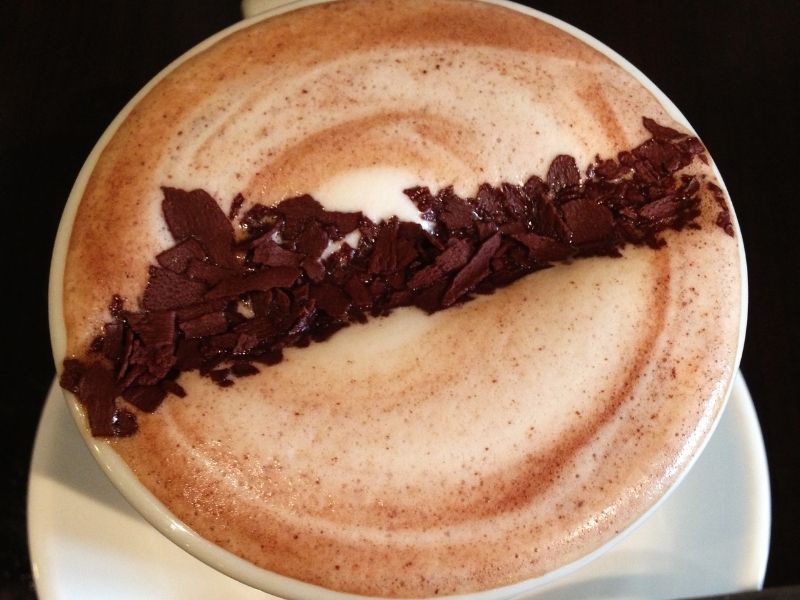 Quick Recipe – Chocolademelk Hot Chocolate
Put 1/3 cup dark chocolate chips, 1 teaspoon cocoa, and 1/4 cup of milk in a saucepan over medium heat. Keep stirring till the chocolate chips melt. Pour in 1 cup of milk and whisk gently till it turns foamy. You can also add a shot of brandy or rum for extra warmth. 
Pour into cups, crown it with whipped cream, and sprinkle some powdered cinnamon. Drink while hot, even if it burns your tongue. It's worth it, every drop!
Chocolate Caliente
All the way from Mexico, this cocoa drink is sure to warm you inside out. The classic recipe includes chocolate de mesa (table chocolate), which is rustic chocolate, unsweetened cocoa powder, cinnamon, and a hint of chili. Can't imagine the combination of ingredients? Try to believe it. Here is the recipe for you.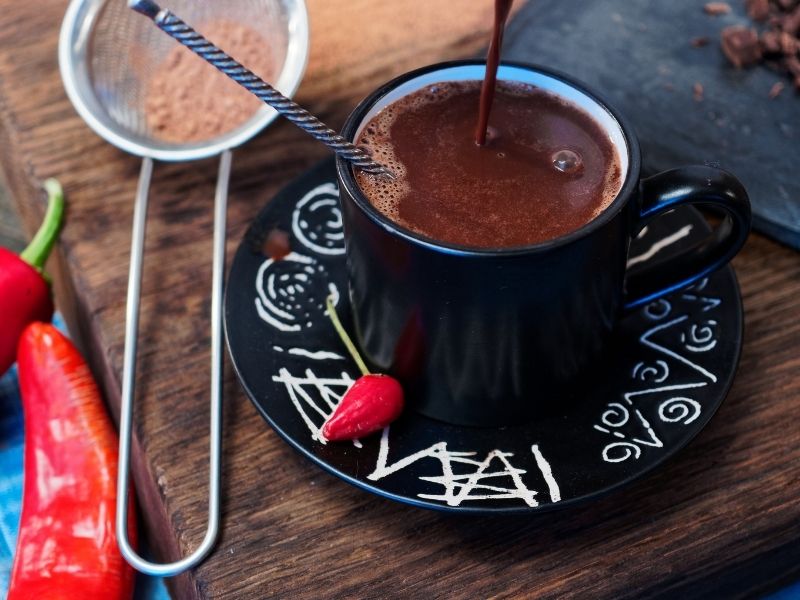 Quick Recipe – Authentic Mexican Hot Chocolate
Fluff up 1 tablespoon chocolate syrup, 3 tablespoons hot chocolate mix, and half a teaspoon of powdered cinnamon. Add a pinch of chilli powder to it. To this spiced-chocolate mix, add ¾ cup boiling water and ¼ cup hot milk. Stir well. 
Sip slowly to fully savor the spiced bite of this refreshing and comforting drink. 
White Chocolate
This is a fun twist on classic cocoa drinks. An elegant drink that tastes as good as it looks; it is a cinch to prepare. And what's more? You can also choose it for festive gifting. Pack some candy canes, mini marshmallows, and a cute mug in a lovely gift basket and tie with a silver ribbon! So, let's start whipping up this three-ingredient drink in one step.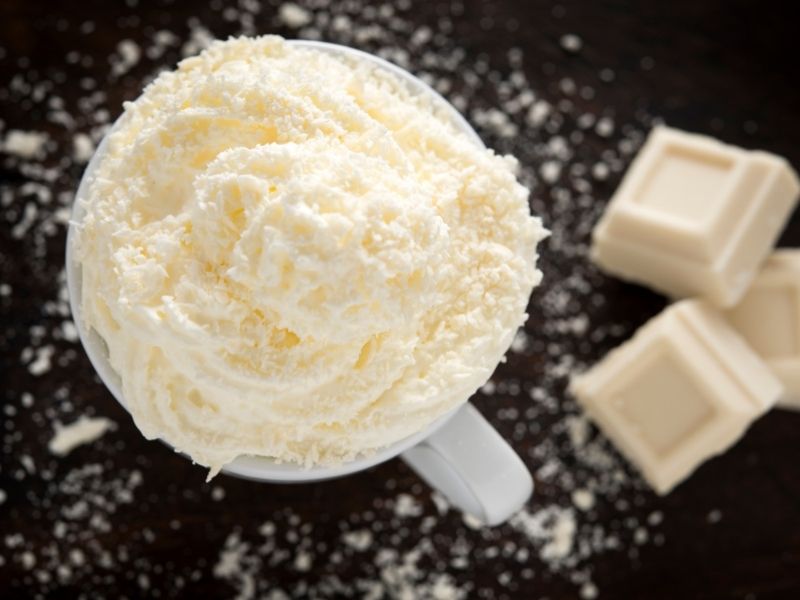 Quick Recipe – White Hot Chocolate
Heat milk and white chocolate. Pour in vanilla extract and whisk thoroughly. Once the chocolate melts, add a pinch of salt. Top it up with whipped cream and white chocolate chips. Candy canes will add some zest to it. Adults could even add a splash of liqueur. Slurp up this indulgent frothy mug of sheer delight!  
What's Your Favorite?
Hot chocolate lovers, rejoice! Now, you have cocoa recipes of the most irresistible cuppas to indulge in this winter. So, whip up a steaming hot mug and give yourself a kick of flavor and get warm. Go sip-sip-slurp! Tell us your favorite in the comments below. If you have a serious sweet tooth, combine this with some luxurious brownies and welcome the festive season!