The brain is among the most complex organs of our body. It is home to intelligence, creativity, and memory. It also helps us processes our emotions, regulate multiple body functions, and interpret incoming sensory information. This World Alzheimer's Day – 21st September, we bring you simple ways to keep your brain young, keep your memory sharp and protect it from age-related degeneration.
Alzheimer's disease is a progressive neurologic disorder. It shrinks the brain and causes its cells to die. The disease might also eventually lead to dementia. This is a continuous decline in thinking, behavioral, and social skills hampering one's ability to function independently.
To combat this challenge, here are 6 tricks to exercise your brain and keep your memory sharp.
1) Meditation
The National Center for Complementary and Integrative Health recommends meditation as it may benefit the brain. How? By slowing brain ageing and increasing the brain's ability to process information, and enhancing memory power.
How does it work?
Meditation usually involves focusing in a controlled manner. Meditating is known to have multiple benefits for the brain as well as the body.
How often should you do it?
Mindfulness-based clinical interventions like Mindfulness-Based Stress Reduction (MBSR) suggest meditating for about 40-45 minutes daily.
2) Listening To Music
A Brain Sciences study in 2018 showed that when people listen to music, they can connect information to different parts of the brain. It is among the best ways to remember things and makes for superior memory and cognition.
How does it work?
Music keeps the brain activated as a result of better cognitive function and overall well-being. Both of the brain hemispheres are activated, allowing you to maximize learning and improve memory.
How often should you do it?
You can listen to music any time of the day, depending on your convenience and schedule. If you have elderly parents, buying them, a Caravaan might help them reconnect with the songs of their youth and strengthen memory. Amazon Music is another great way to stream and listen to music across channels and is easy for users of all ages.
3) Enjoying a Hobby
Pursuing your passion or taking up a hobby can mentally stimulate and exercise the brain in new ways. Hobbies activate your motor skills with agility or coordination. You can take up hobbies such as:
Painting
Drawing
Embroidery
Dancing
Knitting
Learning to play a musical instrument
How does it work?
Physical hobbies improve your fitness, and others can even enhance your brain function. Researches suggest that hobbies like playing a musical instrument can improve your memory. Artistic pursuits like solving puzzles, painting, or reading can prevent dementia later in life.
How often should you do it?
As often as you like through the day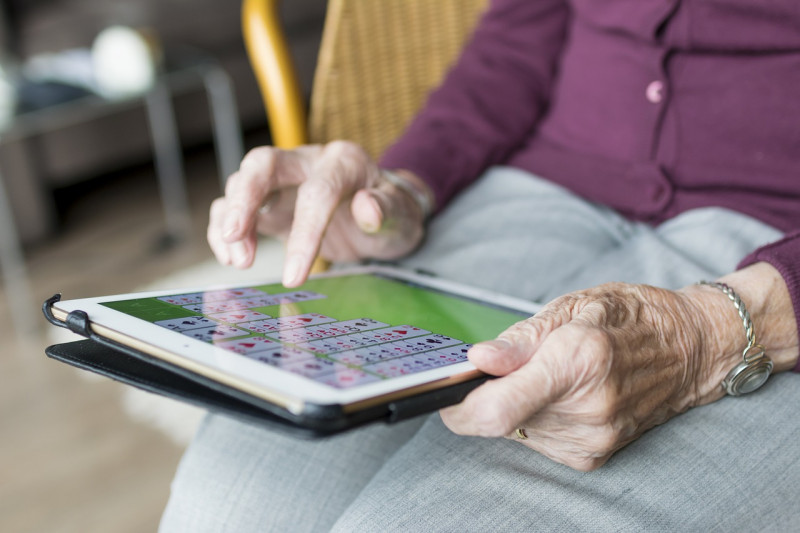 4) Playing Games
The brain benefits from playing games like card games, board games, and video games. The latest study links games with cognition that improves your working memory.
How does it work?
According to a 2017 study, playing games reduces the risk of cognitive impairment in older adults.
How often should you do it?
You can enjoy board or card games as per your leisure, but the American Academy of Pediatrics recommends no more than two hours per day when it comes to video games.
If you want to check out the newer card and board games, take a look at this list!
5) Socializing
When you are in the company of your friends or loved ones, it is a mentally engaging activity. Social activities for brain stimulation include:
Having discussions
Playing games
Enjoying sports
How does it work?
Socializing can preserve cognitive function. As per a study conducted in 2019, people who frequently socialize are less susceptible to have dementia and cognitive decline.
How often should you do it?
Every day is the best frequency but try to achieve a target of thrice a week.
6) Dancing
Dance helps engage the brain in maintaining rhythm and balance. According to the Center for Disease Control and Prevention (CDC), exercise benefits various aspects of cognitive health – memory, planning, and organization.
How does it work?
Dancing boosts your memory and prevents the development of dementia. It can overturn volume loss in the hippocampus – the part of the brain that controls memory.
How often should you do it?
Once or twice a day, depending on your fitness levels and overall health.
As you can see, keeping the brain engaged in daily activities can be very helpful. So just like an exercise routine, we should try to have dedicated workout approaches for it. Many such workouts are designed for memory enhancement and improved creativity and cognition. As memory loss and old age are closely linked, the focus on enhanced brain function is imperative. It boosts connectivity among various areas in the brain and maintains its operations and health.
So, try these engaging brain-training activities. Pick whichever ones you find the most enjoyable, and create a brain exercise routine for yourself. Not only will you have fun, but your brain will thank you for it in the long run!