We are born with certain above-average capabilities in various areas like music, arts, and sports. What you need to do is find your talent and then work on it! There are unique things people can do that others can't. Can you groove in rhythm to a randomly played song? Maybe you can say the alphabets backwards without error? Can you prepare a greeting card in a jiffy for a card-making competition?
If your answer is "yes", you are talented. Your hobbies and interests can turn into your passion in some years. For example, if you are interested in arts and crafts, DIY activities, or dressing up, it might lead to your career as a fashion designer or interior decorator. 
To figure out what your abilities are, make a list. Check out the activities below and mark the ones you are good at.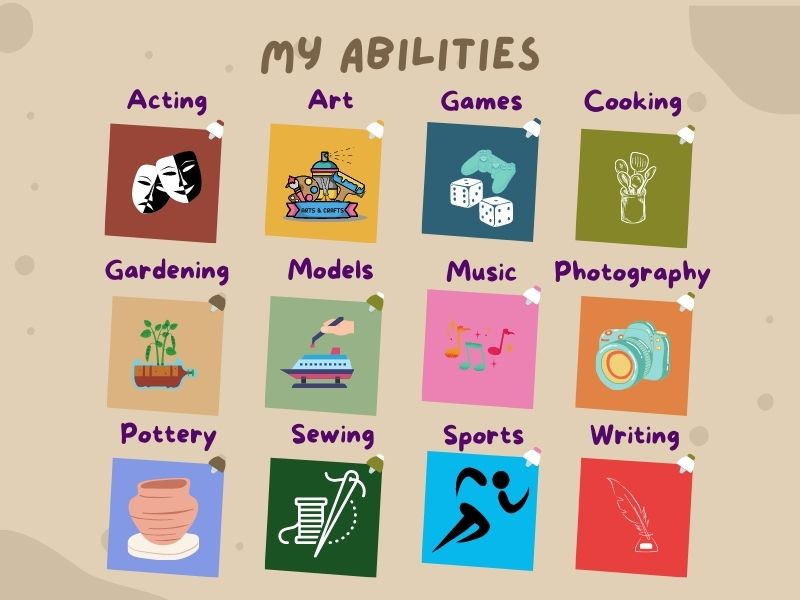 It's important to have the fire to do something with your talent and shine in your own cool way. Here are a few tips to develop or SETUP your talent
Start early
Start taking stock of your abilities. Once you know that you have an inclination towards a particular ability, start to work on it.
Expert Help
Get more instruction on your particular ability. This will help you hone your skills in the best possible way. Tutors, teachers, experts in their field – they will all help you get better!
Time and Patience
Remember, honing skills or talents is not something that happens overnight. It will take time. You need to ensure that you stay patient and keep working on it. Somedays, you might feel that it just takes too much attention and that you want to quit. But, just keep working, and you'll reap the rewards.
Undivided Attention
Whatever time of day that you set aside to work on your skills, keep it dedicated to that particular skill only. When you give any topic undivided attention, you'll be able to
Practice Makes Perfect
And don't worry about making mistakes. It means you are trying. Pay attention to your interests and hobbies as these will develop your talent. As you give more time to these, you get more trained and skilled at these and enjoy doing them. 
Do you have a talent that you'd like to see develop further? Mention your talents in the comments below! We'd love to help you grow. To read more fun pieces like this, click here!