Looking forward to travelling around the country? India has a lot to offer – hidden gems, offbeat trips and more! We've covered Andhra Pradesh, Arunachal Pradesh, Bihar, Chandigarh and Delhi in Part 1 of this series, and Assam, Andaman & Nicobar Islands, Chhattisgarh, Dadra & Nagar Haveli and Daman & Diu in Part 2. Here's a fresh set of holiday destinations in India for you to marvel over!
1) Gujarat – Narara Island, Jamnagar
Fondly called the Jewel of Western India, Gujarat is among India's most chosen destinations for vacations. The tourist campaign caption by Amitabh Bachchan – "Kuch din to guzaariye Gujarat mein" has an essence that you realize only once you visit. Home to surreal natural charm, the birthplace of great national figures, and even more, you can explore all the attractions of Gujarat.
Among the few islands where entry is permitted, Narara Island is nestled in the Arabian Sea near Vadinar, close to the shore of Gujarat. Covering just 3 sq km in area, the island houses various species of mangroves. Marine life, especially colourful coral reefs and exotic birds, will keep you fascinated here. 
How to Reach

Air: From Jamnagar airport, proceed to Vadinar road to reach Narara Island. 
Train: From Jamnagar railway station, take NH 947 to Vadinar road. 
Road: Board a bus from Jamnagar or hire a cab to Narara Island.  
Places to Visit: Khwaja Khizer Rahmatullahialaih shrine, Lighthouse
Ideal duration: 1 day
Entry Fee: INR 150 per person (Indian)
                  USD 10 (Foreign Nationals)

Tips To Remember: It is a protected Marine Area. So, prior permission of the Conservator of Forests, Jamnagar, is required to visit it. Also, remember to check the timing of tides and visit during low tide.
Where to Stay: Lords Inn Jamnagar, Hotel Parth, Hotel Alento, SBM Guest House IOCL Vadinar  
2) Himachal Pradesh – Barot, Mandi
One of nature's favourite holiday destinations – Himachal Pradesh experiences teeming tourists all through the year. However, several hidden places still await tourist footfall. One such place is Barot that will mesmerize you with its unspoiled natural charisma, scenic landscape, and tranquillity. 
How about getting myriad flavours of a holiday at one place? At Barot, you will find nature's beauty, adventure activities, wildlife, and serenity. Standing on the banks of the Uhl River, the destination offers exciting activities like angling for trout and trekking. It's located 206.6 from Shimla, 109.7 km from Dharamshala.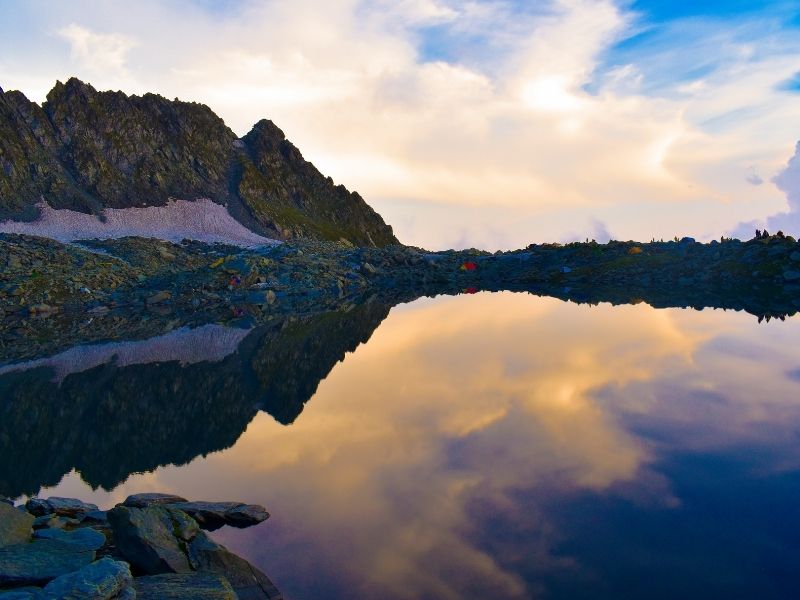 How to Reach: You can board a bus or hire a cab to reach Barot from the airport and railway station. 
Air: The nearest airport to Barot is Kullu airport. 
Train: Jogindernagar railway station is the nearest rail connection to Barot. 
Road: From Delhi, two easy routes to the valley are from Mandi and the second from Jogindernagar. Regular Himachal Road Transport Corporation buses are available. 
Pathankot to Barot Valley – 182 km
Chandigarh to Barot Valley – 241 km
Delhi to Barot Valley – 476 km
Places to Visit: Uhl River, Nargu Wildlife Sanctuary, Barot Temple, Masroor Rock Temple, Chuhar Valley, Shanan Hydel Project, Kareri Lake, Kotla Fort
Ideal duration: 3 days
Average Trip Cost: INR 7500 per person
Where to Stay: KK Negi Homestay, Hotel Lake Paradise, Shobla Homestay, Tatva Bir Tents And Hotels
Best Time to Visit: Any time of the year but monsoons. Winter (November to February) casts a snowfall spell in Barot Valley.
3) Jharkhand – Terracotta Temples of Maluti
Surprises await you at every step in the Indian state of Jharkhand as you explore it. From landscapes to waterfalls, flora and fauna to tribal zones, the beauty and natural resources of the state welcome you in many ways.
Located in Maluti Village near Shikharipara, Dumka, this place is heaven for fine arts enthusiasts and architects. Global Heritage Fund protects it, and it is also the world's 12th most endangered cultural heritage site. Built between the 17th century and 19th century, only 72 remain of the original 108 temples.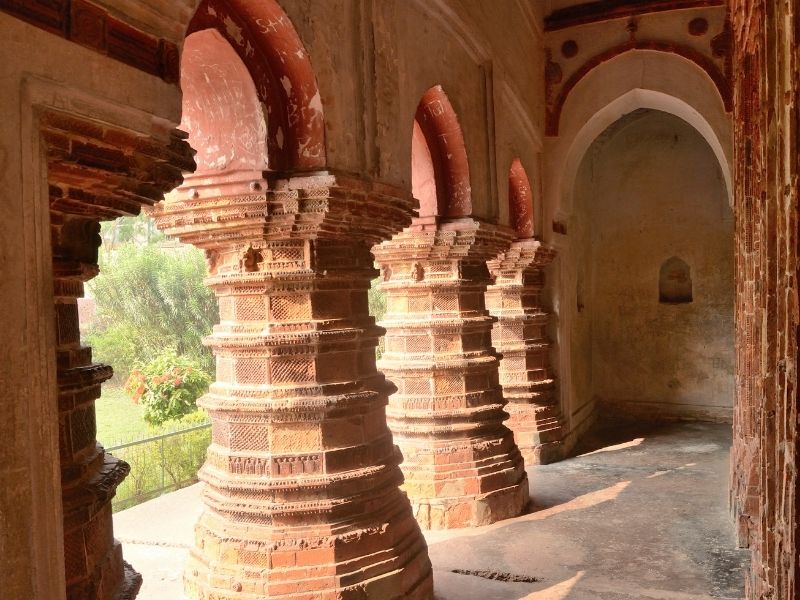 You will get a glimpse of the terracotta culture and the creativity of our ancestors. The terracotta idols and engraved walls show impressive aesthetics and a spirituality that seems lost today. It is among the hotspots of vacations in India that beckon art aficionados. 
How to Reach: You can board a bus or hire a cab to reach the destination from the airport and railway station. 
Air: The nearest airports to Dumka are Birsa Munda Airport, Ranchi, Jay Prakash Narayan Airport, Patna, and Netaji Subhas Chandra Bose Airport, Kolkata.
Train: A railways line connects Dumka with neighbouring cities. 
Road: Buses are preferred here. Dumka offers smooth connectivity to neighbouring districts by state and private buses. 
Places to Visit: Masanjore Dam, Baba Basukinath Temple, Malooti
Ideal duration: 1-2 days
Average Trip Cost: INR 4000 per person
Where to Stay: Hotel Aaditya Residency, Hotel Ashoka Inn, Hotel Surya Palace 
Best Time to Visit: January to March or September to December
4) Kerala – Kannur
Famous as God's Own Country, Kerala is among the holiday destinations frequented by tourists. Still, some places are untouched by vacationers. Next time, when you plan a trip to Kerala, do include Kannur in your itinerary. 
Kannur (also called Cannanore) is a lovely city packed with a plethora of attractions like monuments, picnic spots, beaches, and ancient temples. It still holds the charm of the colonial era. The destination is home to distinctive local art forms like Theyyam – a form of worship in North Kerala.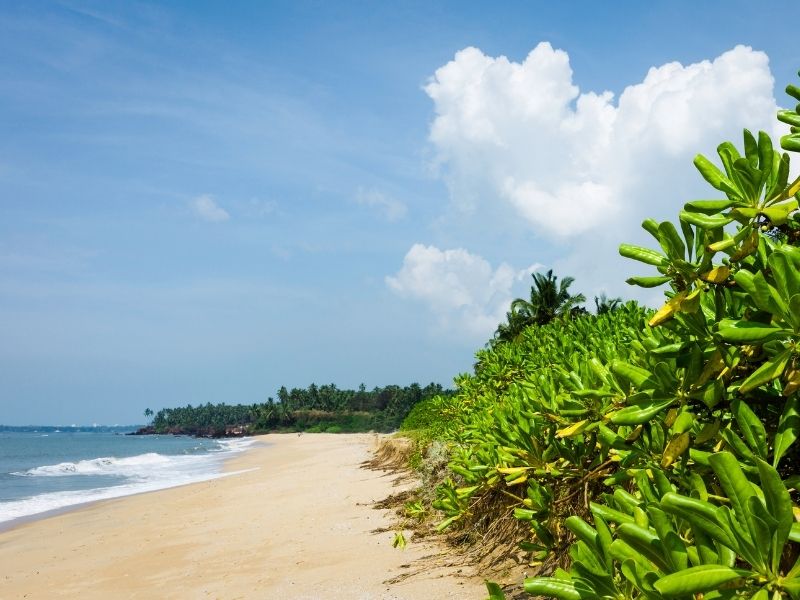 How to Reach
Air: The nearest airport to Kannur is in Calicut (82 km). From here, you can book a cab or board a bus to Kannur. 
Train: Kannur has a major railhead in Kerela.
Road: Kannur has a well-developed road network. It has good bus connectivity with nearby cities and also offers several taxi services. 
Waterways: Cochin port is the nearest port to Kannur. From here, you can book a cab or board a bus to Kannur.
Places to Visit: Payyabalam beach, Muzzhapilangad Drive-in Beach, St Angelo's Fort, Kannur Lighthouse, Parassinikadavu Snake Park, Baby Beach, Arakkal Museum, Madayipara, Pythal Mala, Aralam Wildlife Sanctuary
Ideal duration: 2-3 days
Average Trip Cost: INR 11500 per person
Where to Stay: Asokam Beach Resort, Seventh Heaven Kannur, Yoyostay Kannur 
Best Time to Visit: October to February
5) Lakshadweep – Minicoy
Lakshadweep – India's smallest Union Territory is blessed with exotic locales and sun-kissed beaches. No wonder it is counted among the much-loved vacation destinations across India. Despite its lovely landscapes, Lakshadweep is far from the bustling crowds and offers you a relaxing vacay. Among its many mesmeric yet comparatively unexplored islands is Minicoy. 
Minicoy has one of the largest lagoons. "Jahadhoni" (colourful race boats) are a visual treat. Minicoy's traditional dance – Lava is also performed on festive occasions. Additionally, enjoy water sports here. Kayaking, scuba diving, and snorkelling are among the most-explore activities in the colourful coral colonies.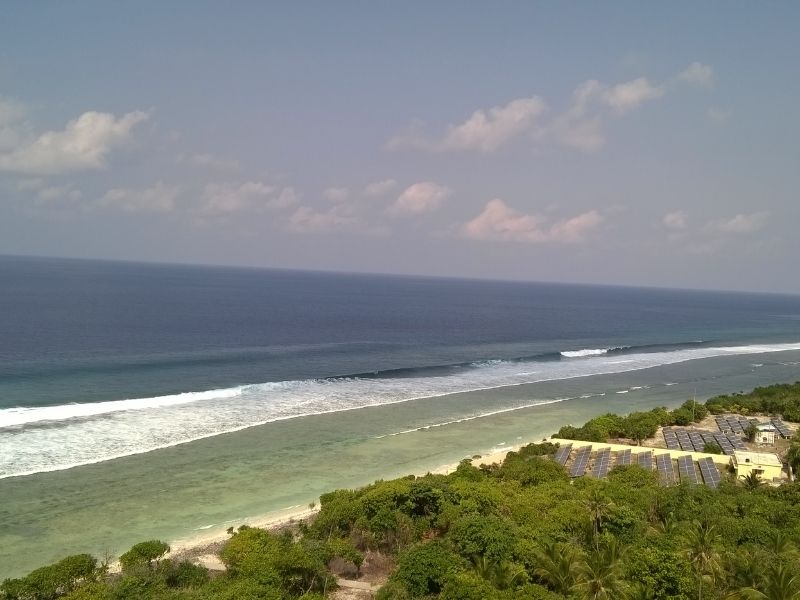 How to Reach
Air: The nearest airport is at Agatti Island, 45 minutes by helicopter or 8 hours by vessel.
Train: No rail connectivity to the mainland from Islands.
Road: There are no direct roads connecting Kalpeni Island from the mainland.
Places to Visit: Old Lighthouse, Juma Masjid
Do take Samudram Cruise – a five-day cruise that takes you to 3 islands – Minicoy, Kalpeni, and Kavaratti.
Ideal duration: 3-4 days
Average Trip Cost: INR 21000 per person
Where to Stay: Minicoy Island Beach Resort, PWD Guest House
Best Time to Visit: October to May
Save it, Share it!
Loved what you've been reading? Save this, share it with your friends and family and get planning now. Come back tomorrow for another set of off-beat destinations since we're doing a travel special this week. Enjoy your trips, travel safely and spread only joy!