Junk food and TV shows have always gone hand in hand for as long as we remember. We bet you can't remember the last time you binged a show without munching on something scrumptious. So we decided to combine the two and let you know which junk food the best TV shows resemble! Read on to find out.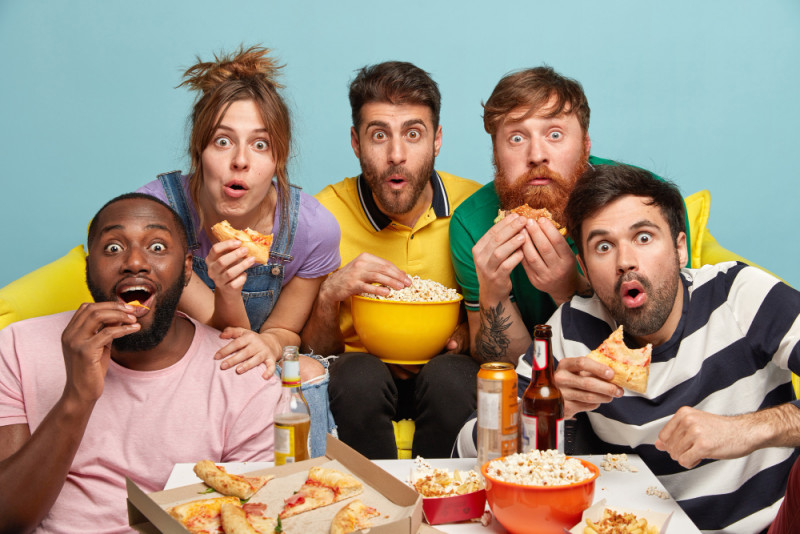 1. FRIENDS
FRIENDS is like ice cream. You can pick your favorite season or your favorite flavour based on your mood. From a break-up, a long week at work, figuring out adulthood, to goodbyes, you can go through the seasons as you would with ice-creams. Just don't binge too much, or you could end up with a brain freeze.
2. BREAKING BAD
BREAKING BAD is like a mixed bag of candies. You never know what you're going to get or how it'll hit you. It could be anything from sweet, sour to tart, just like how the show makes you feel through its season. When you're done with it, though, you feel utterly satisfied, knowing you've eaten the best bag of candy there was!
If this made you crave assorted sweets, try these fun mixed jelly beans!
3. DEXTER
DEXTER is like pizza with toppings! You start good, with cheese and sauce, but as the seasons go on, you get greedier for more toppings, leading to a pizza that could have been great had you not added the extra olives and pineapples. Now you're left with a bad taste in your mouth, and you wonder where you went wrong! (Pineapple lovers, ew?)
4. BIG BANG THEORY
BIG BANG THEORY is like deep-fried, oily food. What begins as a small comfort food session ends out to be a full-blown binge-fest. You now want to consume everything fried in front of you, all 12 varieties of it, in one sitting. Slow down, champ! Junk food day isn't not going anywhere, neither is Sheldon!
Binge-watching BBT again? Here are some assorted Pringles to go with the show.
5. GILMORE GIRLS
GILMORE GIRLS is like cereal. No matter what season you're on, you're always going to be filled with glee while trying to process a rush of feelings within you. Just like eating cereal, you'll always have a smile on your face, but when you're done with it, the downer is just sad.
6. SCHITT'S CREEK
SCHITT'S CREEK is like dark chocolate. Remember not liking dark chocolate? Now think of getting by without it. Just as it's impossible to imagine a day without dark chocolate, we shudder to think of a time without Schitt's Creek. Who would have thought Alexis would be our favourite!
7. DARK
DARK is like chips. When it comes to selecting flavors you like, the confusion sets in, just like it did when you tried to get the hang of the 54674 timelines through the show. But once you're clear on what you want, there's no stopping you now!