"How handsome!†"He's hot!†"Oh, he looks so good!†– These are some of the exclamations that well-groomed men get now and then. They look as if they were born that way. However, most people work really hard to maintain a consistent, dapper look. Since grooming is an essential part of your style, here are some tricks to help you ace the men's grooming routine. Whether you want to go clean-shaven or rock that beard, your favourite Fashion Ape is here to give you a hand with your goals.
1) Know Your Products
Pick a sunscreen that suits your skin. It nourishes and protects as well as reduces wrinkles and risk of skin cancer. If you aren't a fan of applying sticky sunscreen on your face, try spraying it on!
If you struggle with unruly thick hair, use waxes or pomades.
If fine or thin hair is the bane of your existance, there are lighter products for that as well.
2) Do a Dylan with Your Toothbrush
Invest in a rotating toothbrush. It does wonders for your dental hygiene, by cleaning 11% more plaque from your teeth than regular toothbrushes. Say hello to whiter smiles and less gum problems!
Keep a mouthwash handy with you – for after meals, after your brush, and just before a big event.
3) Explore the World of Scrubs
Pick a day of the week (like Sunday) to give your face a gentle, yet thorough scrubbing. This gets rid of dead cells and lets your face show its natural glow.
Scrubs with natural ingredients like apricot kernels, mulberry or oats can do wonders for the skin.
4) Tackle Your Dark Circles Head-On
A good eye cream or gel can help you eliminate puffiness or dark circles.
There are some wonderful roll-ons that also work well on tired and puffy eyes.
If you want a quick-fix solution, some eye masks can work their magic in less than 15 minutes. Remember though, this isn't a long-term solution, it just works for a little while
5) Pamper Your Hands and Feet
Trim and clean your nails once a week atleast, to keep them looking good.
Pick a moisturizer that works for your hands and feet – light for regular skin, heavy-duty for dry skin or cracked palms or heels.
Never neglect corns, cracks or injuries – sort them out with medical attention if required!
Schedule regular manicures and pedicures, it's really not just for women.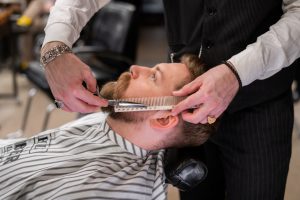 6) Pick Your Parlour Time
We're serious; parlours are not women-exclusive places!
Get your hair and beard trimmed or go for a clean shave as you prefer – monthly or biweekly, as required.
Clean the hair off your neck and ears. This is something that's easily overlooked by most people, but really makes a difference especially in initial impressions with others.
Have unruly eyebrows? Fear not, a little tidying-up and nobody will ever guess!
7) Wear Well-Fitted Clothes
No matter how good you like, never forget this one!
If you prefer loose-fitting clothes to hide the flab of your body, start wearing fit clothes (not tight).
Irrespective of your body shape, clothes that are tailored nicely enhance your appearance.
With this men's grooming guide, maintain your looks and style. With clean skin, hair on point, and that smart appearance, you feel confident. So, go ahead, put grooming on your to-do list and follow through with your goals. Stay groomed, stay charismatic!